Ways to download videos from MySpace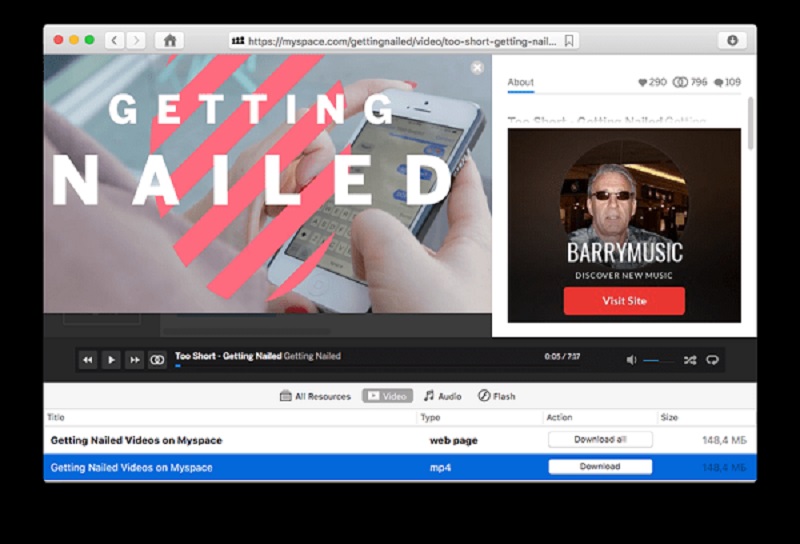 People, who are well acquainted with the latest technology and world of the internet, consider MySpace as the father of Facebook. If we look at the revolution that the world of social media handles has witnessed, then MySpace has played a great role in it. In such a short span of time, it has achieved a lot. It was launched in the year 2005 and by the end of 2006; it had become one of the most visited sites on the internet. If we look at the time when it started, until today, then we will find that MySpace has managed to get a place in the heart of millions of users.
As we mentioned earlier, people love this social network, the reason for this love is the content available here. Everyone wants to download and save videos from MySpace. However, it is not an easy task, especially on Mac. For this, you need to have a good video downloader and in the section below, we will be discussing the same. So, here are the applications that will help you in downloading your favorite videos from MySpace.
VideoDuke
The reason for placing this particular video downloader in the first place is that it is designed to solve all the video related problems of Mac users. With the help of VideoDuke, you could download MySpace videos on Mac and that too with ease and comfort. Along with the videos, this application can download images, subtitles and audio files too from a variety of platforms. It supports almost all the big video streaming platforms and social media sites.
iTube
This is the best alternative of VideoDuke for downloading MySpace videos and because of this reason only; we have put it on the second option of this list. The best part of this video downloader is that it comes for free. It is simple to understand and easy to use. It has a very user-friendly interface, but when compared to other applications, it looks little older. The app allows you to select the format of the video that you need to download before the process starts.
Allavsoft
With this particular application, you get the liberty of downloading videos from MySpace and other platforms in any format you want. You could easily download the videos in FLV, MP4, AVI, MOV, MPG, WMV, and other related formats. This application is also free of cost, just like the previous one.
Bigasoft Pro
Bigasoft pro is one such video downloader that is designed especially for downloading videos from MySpace. It has a set of amazing features and is dedicated software. One could download the MySpace videos very quickly using this application. Apart from MySpace, Bigasoft pro supports platforms like Dailymotion, Vimeo, Metacafe, etc.
So, these are all the applications that one could use for downloading videos from MySpace if they are Mac users. One common characteristic of all these applications is that they have a simple user interface and it is easy to work on them.