This Mobile Time Card App Automatically Tracks Employee Work Hours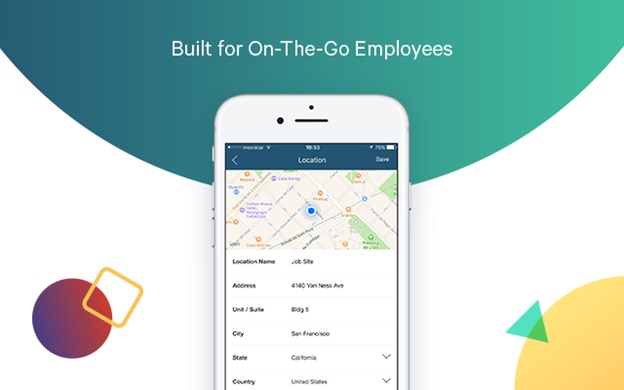 Running a business is not eating cake as other people think. If you have a business, you will sympathize with me on this. Many people think a running business is just an idea that luckily worked. They don't know about all the management hurdles that need to be crossed. Keeping tabs on all the people working under you. How much they worked. If they did over time.
Many more factors come into play. But not everyone has the understanding or gets a premonition to tiringly maintain all the time card records on each of their employees. If you are one of them good for you. If not, then Boomr's amazing mobile time card app has come to your rescue.  
What is Boomr?
Boomr is an employee time tracking & workforce management software company that offers businesses with an incredible mobile time card app that can be used on iPhone or Android too. Yeah, yeah, I know what you're thinking. "That explains nothing," but don't be so quick to comment. Unlike the typical image of apps in your mind, with Boomr you can manage all the above-mentioned duties from you and your employees' mobile phones and with ease. They also offer free timesheet templates to help with payroll reports in addition to using their time card app to manage employee time cards – no matter where they are located working.
Like any other place or office. Some workers will be diligent and some a little lazy, and then there are the ones who work overtime. Obviously, your business is not the one benefiting the most with so much going on, especially if you're using paper timesheets with manual inputs… that's so 1989. Still, you would like to have proper knowledge of who worked for how long and how much overtime did they pull in, and were they even supposed to be working overtime. It just doesn't fit right to deal with each of them equally, and no businessperson wants to pay any more than they should.
Why get Boomr's mobile time card app?
Boomr is one of the only mobile applications that provides businesses complete and proper control to manage and track mobile time cards of each employee. For your convenience, it can automatically enter employee's work hours with their auto-clock feature via wifi connection. Then finds out how much of it was the normal hours and how much was overtime. With this, it can also calculate the total pay of the users/employees. You can track your employee's performance and progress to the minute.
This can be quite a hassle when timesheets are done manually. Everyone needs an income, and all of them want more and more of it. With manual paper timesheets, people can lie about the time they worked in order to increase their pay a little. With Boomr, even that possibility decays substantially. It's often referred to as time padding or even buddy punching when work friends help a friend fudge their timesheets. This type of time theft costs businesses a ton of money each year. In fact, it costs American businesses billions every single year in losses.
Where will the time card app benefit your business?
Well, for one thing, your business and office will be much more organized. Efficient time management means lesser issues or disputes. It can help in an office which follows time shifts for work. A maintained work ethic means a steady workflow and greater productivity. Tracking performance feature gives you heads up on progress.
Whether your work provides hourly pay or monthly. Whether your business has work shifts or single shifts. All can be managed easily with Boomr's employee time tracking software and mobile time card apps. Anyone can tell you that managing a business is not like a high school assignment. It is tiresome and bothering. With Boomr, you can assign individual rules to the worker and even have an automatically updating timesheets.
And if you instead need a time tracking solution that works on laptops and desktop computers, you can give Workpuls a shot. It offers all the same benefits, but running on the bigger screens.
Is it not free? Should I get it?
Yes, yes you should. You can use Boomr free for 30 days, and when you do, you'll never go back to the old ways of timekeeping. Boomr was developed for maximum efficiency a mobile time card app could have. Many other, similar services are available in the world. But all of those provide part or incomplete features as compared to Boomr's time tracking solutions, which on the other hand reduces workload.
It is extremely helpful for small to medium sized businesses. These types always have to handle variable workloads and timing. Boomr is not a free service. But what other quality service can you name that is legit but still free. And why shouldn't it be charged? Time tracking is not all it does. Test it for free for 30-days, you'll be glad you did.