THE VIRAL LOOP: ENCOURAGE CURRENT USERS TO BRING A NEW WAVE OF USERS FOR YOU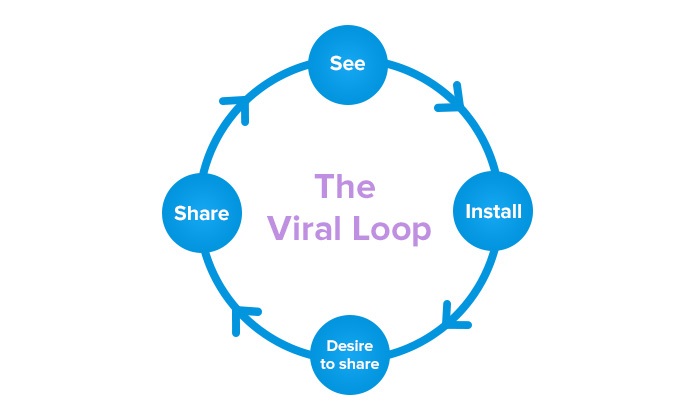 To compete in this fiercely competitive world of today, your app must stand out from the crowd to succeed. The foundation of app's visibility and success lies in a stellar mobile app marketing plan that sets the tone of success for the app. Increasing your app's visibility and acquiring more users has become quite expensive in the past few years. Recent research found that the average cost of acquisition is about $4.44 for iPhone apps and about $2.90for Android apps.
What if you could save all this money spent and encourage current users to attract and bring new customers for your business? About 77% of people claimed that they downloaded an app because somebody recommended it to them. This is where the concept of a 'viral loop' comes to play. Virality isn't just for the lucky developers, it is something you achieve by planning, testing and building the right mobile app marketing strategy for your app. If carried our rightly, viral loop marketing can result in untapped growth for your app and let profits pour in.
What Is A Viral Loop?
In literal terms, viral loop refers to the process a user passes through from using the app for the first time to invite a new wave of users by recommending it. It is marked as a loop because if done rightly, every new user follows the same footsteps and become part of the circle by inviting new users for the app.
Viral Loops Work Differently Than A Traditional Mobile App Marketing Plan
As opposed to attracting a wide range of potential users and getting them to download the app, the viral loop allows you to leverage the current users to share your app with their acquaintances and networks. This way, viral loops get current users to advertise for you. Including this mobile app marketing strategy is becoming very popular these days because of the strong impact it possesses.
3 Steps For Building A Viral Loop
1st Step: Enhance The Quality Of The App
People will not share or recommend the app if it lacks in quality. The first step is, therefore, to enhance the quality of your app and make the user experience favorable.
2nd Step: Decide On The Referral Scheme
Nobody shares anything unless something of value is offered to them. To get your users to take the action you want, you must find out what motivates them and implement it as part of your mobile app marketing strategy.
3rd Step: Enter The Viral Loop
The best way of entering the viral loop is by offering something personal to the users that would compel them to share.
Conclusion
To stand out in this world of substitutes, a compelling mobile app marketing plan in place is very important. If you wish to take your customer base to the next level in a smart way, leverage viral loop marketing to your business's benefit. Focus all your energy and efforts in providing users with the experience they want to keep using your app and recommending it to others.