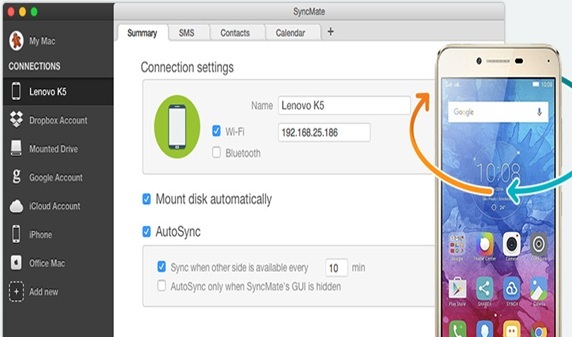 SYNC YOUR LENOVO DEVICE TO YOUR MAC FAST WITH SYNCMATE
Published On October 25, 2017 |
Technology
Mac computers offer a quality computing experience, so many tend to purchase them and bring them into their homes.
Mac computers are different in that they don't work well with others. Other company's products that is. If you have a Lenovo device, you probably find that transferring your files from your device to your Mac can be time-consuming, risky, and stressful.
SyncMate, Lenovo suite for Mac, is a great tool to help you transfer and sync data back and forth between your Lenovo device and your Mac.
Here are some of features you can expect to find on SyncMate:
Sync Up Your Calendar And Contacts
The world is a crazy place. When you're busy, you may find yourself accidently writing information like contacts and upcoming events on both your Mac and Lenovo calendars. This is where SyncMate comes in handy.
Hook your Lenovo device to your Mac and integrate your contacts and calendar events together so you never lose someone's information or forget to attend an important event. This feature comes free with the standard version of SyncMate
Transfer Files Of All Types With A Click
Offered specifically on the expert edition of SyncMate, you can transfer videos, images, music, and even folders within a few minutes.
This is extremely helpful if you want to edit photos from a family member's wedding, or if you want to work on a project you started on your Lenovo device. Don't worry about using secondary apps to help transfer the data, SyncMate can do it with a click!
Automatically Sync Your Data
Everyone is busy nowadays. SyncMate allows you to hook up your Lenovo device to your Mac, choose your personal sync preference, and walk away. This is great if you've got work to do or time to spend with your family. Let the software do its job while you do what is important to you.
Mount Lenovo As Mac Disk
Mounting something as a Mac disk is an awesome way to explore the various files on a given device. Normally, because Mac doesn't work too well with other company's products, you wouldn't be able to do this simply.
SyncMate allows you to mount your Lenovo device as a disk and easily look through its contents in the Finder window.
Extra Sync Possibilities
Aside from basic syncing functions, this Lenovo suite for Mac allows a user to write and send text messages from their mac, view and export call history reports, and back up Lenovo data onto the user's Mac.
Time To Download It
So, with all of these great features, it's time for you to download SyncMate and experience it for yourself. Say goodbye to pesky manual file transfers, and never worry about losing important information, pictures, videos, and files ever again. SyncMate takes away the worry and gets your information where it needs to go fast.
Click the link below to download SyncMate, the only Lenovo device to Mac sync manager software you'll ever need!