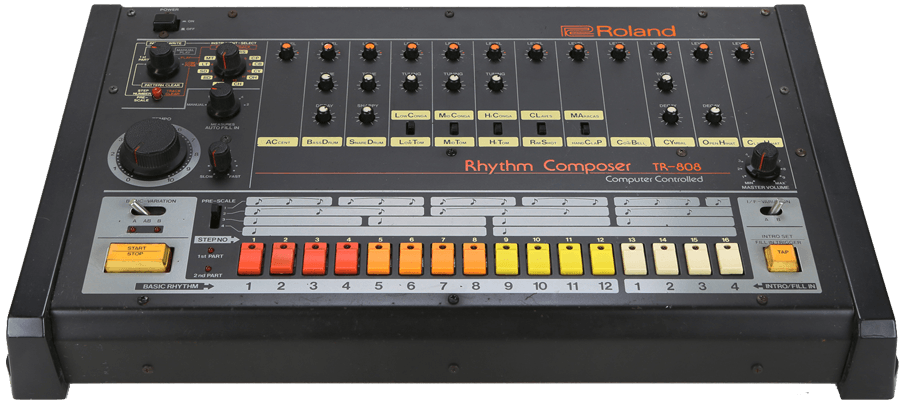 suggested title: Seven Iconic Songs Made Possible With the Roland 808
The Roland 808 is an iconic drum machine that was produced in the early 80s and helped launch some musical megastars' careers. It has a wide range of musical output that can simulate cymbals, rimshot, handclap, bass drum, snare, and cowbell (because you've gotta have more cowbell).
This was the first professional grade drum machine that was intended for producers and artists. It was more affordable that competing machines, putting it within the budget of even beginning musicians around the world. Here are seven classic hip-hop, r&b, and EDM songs that were made possible, in part, by the 808:
Marvin Gaye – "Sexual Healing"
This song was the 808's first big hit. Audiences loved the kick drum and other effects that added depth to this funky soul-infused song from 1982's Midnight Love.
Afrika Bambaataa – "Planet Rock"
1982 was a big year for the 808, bringing with it another hit. "Planet Rock" was a toe-tapping party favorite that combined hip hop and techno with extra flare thanks to the drum machine's kicks and hi-hats.
SOS Band – "Just Be Good To Me"
This hip hop soul track from On the Rise has an uptempo rhythm that features the drum machine's snares, kicks, and an unusual cowbell. Other bands followed suit, including this distinctive instrument in their songs. "Just Be Good To Me" peaked at number 55 in 1983's Billboard charts.
Beastie Boys – "Paul Revere"
In 1986, the Beastie Boys got creative and reversed their 808's percussion recording to create a cool, backwards sound for this song. "Paul Revere" was featured in their debut album, Licensed to Ill, and hit 34 on the Billboard chart.
Kraftwerk – "Musique Non Stop"
Kraftwerk, the most iconic band in the Krautrock and European Electronica movements, have used quite a number of synthesized sounds in their music including the 808. 1986's "Musique Non Stop," from Electronic Cafe, has an excellent beat and hit number 1 on the US dance music charts.
Whitney Houston – "I Want to Dance With Somebody (Who Loves Me)"
Whitney climbed to the top of the Billboards in 1987 with this song from her second album, Whitney. The 808 produced all of the percussions on this track.
A Guy Called Gerald – "Voodoo Ray"
This quirky cult favorite, released in 1988, has an interesting history. Gerald bought his Roland 808 from a pawn shop on discount because it was missing a manual. He produced really interesting sounds with the device by experimenting with the settings and going purely on artistic instinct.