MilesWeb V/S Godaddy: Who is the best for VPS Hosting in India?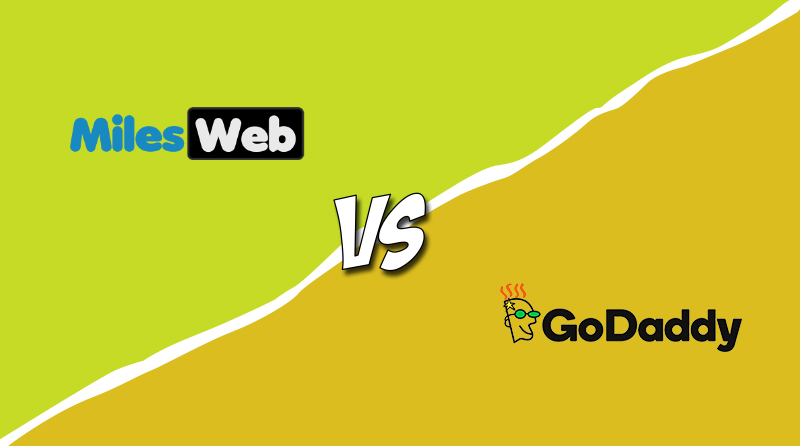 The website and apps need good speed to perform and deliver the best user experience. For improving the speed of the website, you need to consider other factors such as server type, server resources like disk space, bandwidth, server location choice, dedicated IP and more. There are multiple hosting providers available in the market and they offer several types of hosting solutions as per the user requirement. The only thing you need to do is select and compare the hosting solution.  In case, you are looking to switch your provider then you are at the right destination. In this post, you will get a detailed comparison between Miles Web and Godaddy. Additionally, you will get a clear idea about the features and other additional services offered by these two providers.
Why do you need a VPS hosting?
As I said before, there are multiple hosting solutions available in the market. But when you are looking for high performance and quality resources then VPS or Dedicated server is the ultimate option for your website.  VPS hosting utilizes the virtualization technology to separate the physical server into multiple virtual servers. Additionally, you are solely responsible for your server and get similar benefits as that of a dedicated server at a lower cost. Customization is done easily and it acts as an intermediate between shared and dedicated hosting.
If you are looking for VPS Server Hosting? Check below-mentioned comparison of these two providers.
MilesWeb or Godaddy, Which has the best VPS?
MilesWeb, India's best web hosting provider, provides all kinds of hosting solution to all types of business. Their plans consist of superior features like SSD storage, unlimited bandwidth, free SSL Certificate, Spam Experts, unlimited email accounts, etc. On the other hand, Godaddy is one of the great providers that exists in the web hosting industry from a longer period.
They started with domain registration service and later they introduced web hosting services that include shared, reseller, VPS, Dedicated and more. Even though they offer best features but they are less impressive in comparison with MilesWeb, when it comes to VPS.
Let's check why MilesWeb's VPS hosting is the best in comparison to Godaddy
Features:-
In terms of feature, both the providers give the best VPS hosting services to the users. The customer database of Godaddy is huge due to longer presence in the web hosting industry. But if we talk about MilesWeb journey then in very less time they have successfully established themselves in the Indian hosting industry. They too have a big customer database. While comparing both the plans of providers, you will reach to the conclusion that both of them offer four plans and each plan is unique from each other.
Godaddy includes un-metered bandwidth feature in their plans, but MilesWeb offers cloud-based infrastructure with built-in SSD storage on VPS platform. Godaddy provides 40GB storage space in Economy plan starting from Rs. 2399/- mo and MilesWeb offers 30GB SSD in RAID in their Smart plan starting from Rs. 667.50/- mo. You can further expand your plan as per your requirement. Likewise, Godaddy offers Free SSL Certificate for one year duration only, whereas MilesWeb provides a Free SSL Certificate for lifetime on all plans of VPS. Looking for Cheap VPS hosting? Check MilesWeb hosting!!
Prices:-
Price is the primary factor that is considered while comparing the plans of hosting. In terms of pricing, MilesWeb is best and affordable as it offers best features. MilesWeb charges Rs. 667.50/- mo for 1 core CPU, 1 GB Memory, 30 GB SSD Space, 500 GB bandwidth, 1 Dedicated IP along with different location choices. Whereas Godday plans start with Rs.2399/- mo. MilesWeb does not charge an extra amount for VPS management, whereas Goddady charges Rs. 7680/- per month for a fully managed VPS plan.
If you are a beginner then it becomes expensive to pay a huge amount for VPS and its management. In such case, you can consider MilesWeb as they offer fully managed VPS plans on cloud-based infrastructure at an affordable cost. However, both the providers have separate plans for Windows and Linux. It's up to you which platform you are looking to host. Also, MilesWeb comes with many superior features like low renewal cost and generally it depends on the billing cycle, no setup fees, Free backups, etc.
MilesWeb VPS Plans:-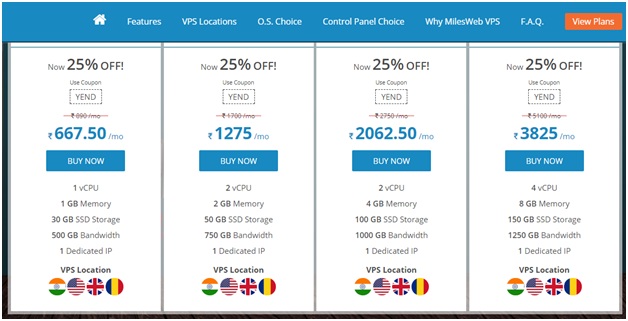 Goddady VPS Plans:-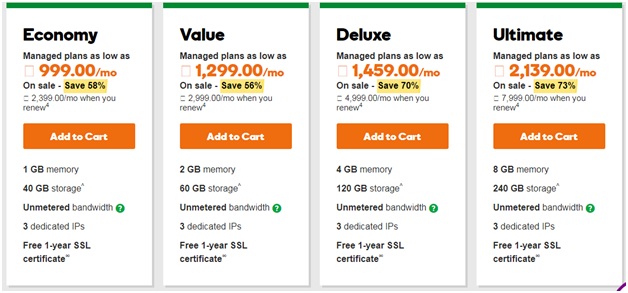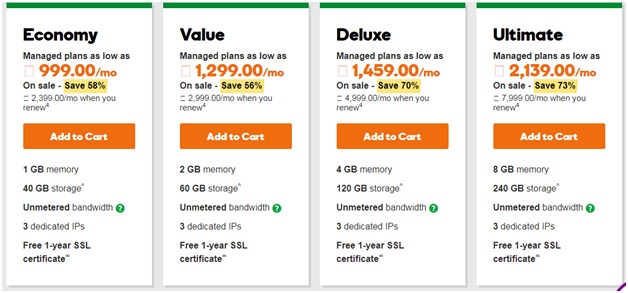 3) Server performance:-
A website performance depends on the server and location which you have selected as per your targeted audience. If your website is down then it will take away your potential customers for that period of time. Therefore, it is crucial to check the server locations before selecting your hosting provider. As per customer survey reports and ratings on review sites, MilesWeb has best servers that give good performance with zero downtime. However, their servers are located in India, UK, USA and Romania and they are reachable via chat, email and phone. Whereas Godaddy also offers best server performance along with good uptime still their customer service quality has not improved.
Conclusion:-
From above comparison, it is assumed that you are no longer unknown to who provides best VPS hosting service at cheap rate along with superior features. As compared to Goddady, MilesWeb offers best customer support service and this makes them stand unique from others. Additionally, they are also empowering startups to get online and have established themselves successfully. Are you also looking for Best WordPress Host? Check MilesWeb hosting!!