ID'd: Mobile App License Reminder for all Trades!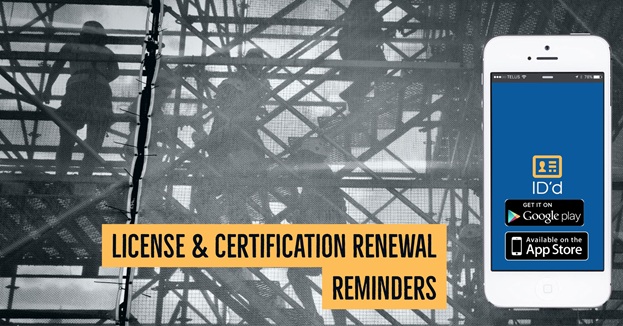 If you're a trades person, you'll understand when I talk about just how many pieces of I.D. and other documentationwe need to carry with us, depending on the job and location. Most of the time we carry these in our wallets (probably shouldn't but we do), making it bulky to carry around but even more of a problem should your wallet get lost or stolen.
Now… imagine having access to all of your I.D. from one convenient app on your phone… sound like a great idea? You bet it does! ID'd is the app of choice for me!
With ID'd, I can keep a digital image of the front and back of any piece of I.D. so I don't have to carry everything around in my wallet – Less bulk and less chance of losing my important I.D.
No matter what trade you are in, having multiple forms of I.D., certification and trades licenses is just a part of doing business. But what would happen if you forgot to renew your license or certification? Not only does it take time out of your day (loss of pay) but if left too long, some trades require a level of re-certification before you can be re-licensed! Something like that could even stall your career!
What's worse is if a job went wrong while your license was expired! That almost doesn't bare thinking about…

Not to worry though, because help is at hand. That same useful app you just downloaded… yeah, ID'd… Well another great feature is that for each piece of I.D. you have saved, you can also set up a renewal reminder so that the examples like those above never happen to you!
Free to install and use, with optional upgrades to add more licenses, ID'd has been designed with ease of use in mind. Reminders can be set for 30, 60 or 90 days, giving you plenty of time to renew your license. Notifications will be sent to your phone via the app and you'll also receive an email. At ID'd, we've got your back!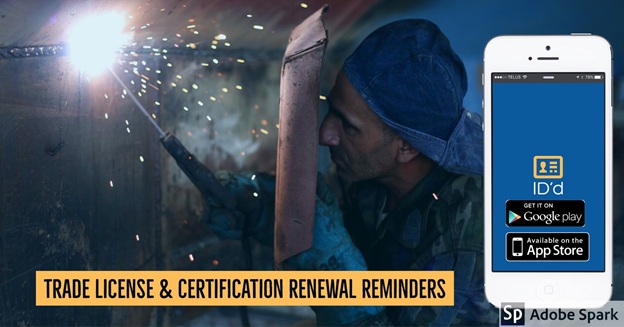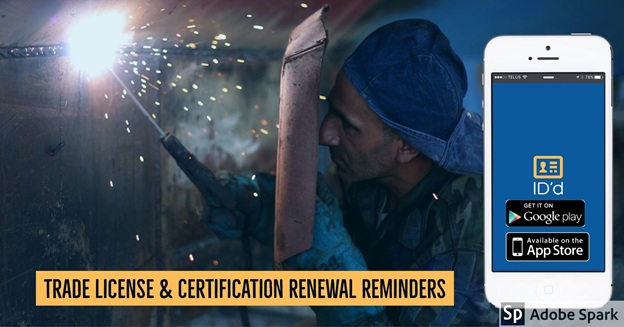 ID'd has 4 categories to save your information to, making it very quick and easy to access your license or membership info:
Personal:
Driver's License and plate sticker renewal
Health card and travel insurance
Home & Auto insurance
Professional:
Trade license renewal for Welders/Electricians/Mechanics etc.
Certificate of Qualification renewal for Healthcare workers/CPR/First Aid/WHMIS
Union Renewal reminder
Recreational:
Hunting/fishing license
Hunting Tags
Firearms license
Gym membership
SecureWallet:
Specifically dedicated to storing credit card info for quick access
In less than 30 seconds, ID'd has your info saved and renewal reminder set, so that you can get on with your busy day and have one less thing to worry about.
Available for IOS and Android devices, ID'd is the #1 License reminder app, trusted by professionals just like you. Download ID'd from the App Store or Google Play today!
NOTE: the law may require you to carry certain forms of original documentation on your person. Always make sure you follow Local, Provincial and Federal laws as they apply.