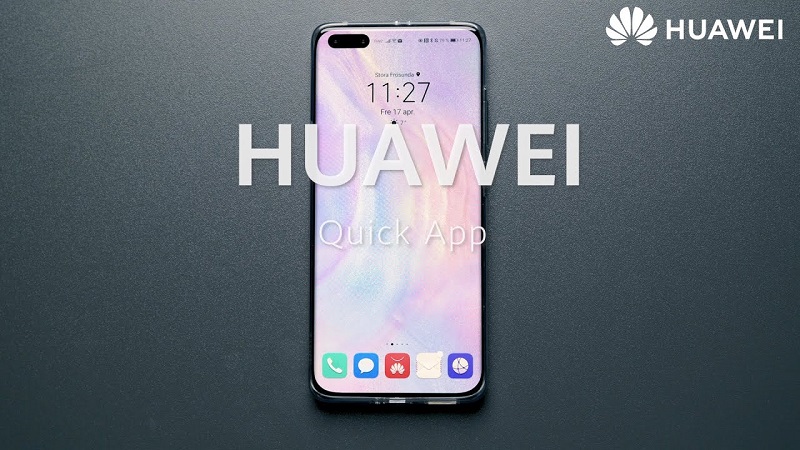 Quick apps are a new variety of installation free apps that are developed solely based on industry standards which offers the customers a good user experience and powerful functions like any other Android apps and also facilitates automatic updates of HTML5 pages. It consumes very little memory space with a highly developed technology stack and supports native rendering. It doesn't require the installation process of quick apps however one needs a single tap and enjoy the very similar user experience and performance as native apps. Also, the users can attach the quick apps of their choice to desktops for easy and convenient access. The users can go to the AppGallery and open the quick apps section which will redirect the user to a page where quick apps can be selected.
BENEFITS OF QUICK APPS:  
Quick apps come with many advantages for its users and offer a variety of facilities which is experienced from a native app system only however quick apps made the user experience similar to the native apps. Some of its benefits are:
Quick apps require very low cost: The quick apps don't require huge costs for app development because one can use JavaScript and CSS to develop the native android apps providing similar functions and user experience.
It has easy and convenient access: Quick apps have very convenient access for its users and it is offered by distributing it to a variety of channels like deep links, AppGallery, Quick App Center, and HUAWEI Assistant, which improvises the app's user exposure.
Native app experience/ good user experience: It is developed based on the native rendering technology which effectively facilitates quick apps to offer its users the functions and experience of the same kind as native Android apps. Also, it doesn't require much memory space for that and it can be updated automatically.
HOW ARE THESE QUICK APPS USED?
As mentioned above, Quick apps have a very easy and convenient installation and usage process with single taps and going to a gallery system to access the quick apps of the user's choice. It has a very easy usage process starting from finding the required quick apps on the AppGallery, Global Search, or the HUAWEI Assistant and then opening the app instantly without a hassle installation wherein it supports the automatic update with a minimum storage. After entering the required quick app page, one can use the smooth interface, comprehensive functions, stylish UI, and also the optimal performance of quick apps. When the usage is completed, it is accessible for the users of the quick app to add it to the desktop home screen through recently used apps to make use of it again. Huawei offers the users of the quick apps with a whole set of development tools to improve and debug quick apps. As it provides a very similar user experience to the native app systems therefore its usage limit gets inestimable and the usage of the quick app is also lauded within the user's circle. Quick apps have their developmental tools, functionary portals for providing its users an advanced and smooth interface.