6 Reasons why Millennials would make ideal Contractors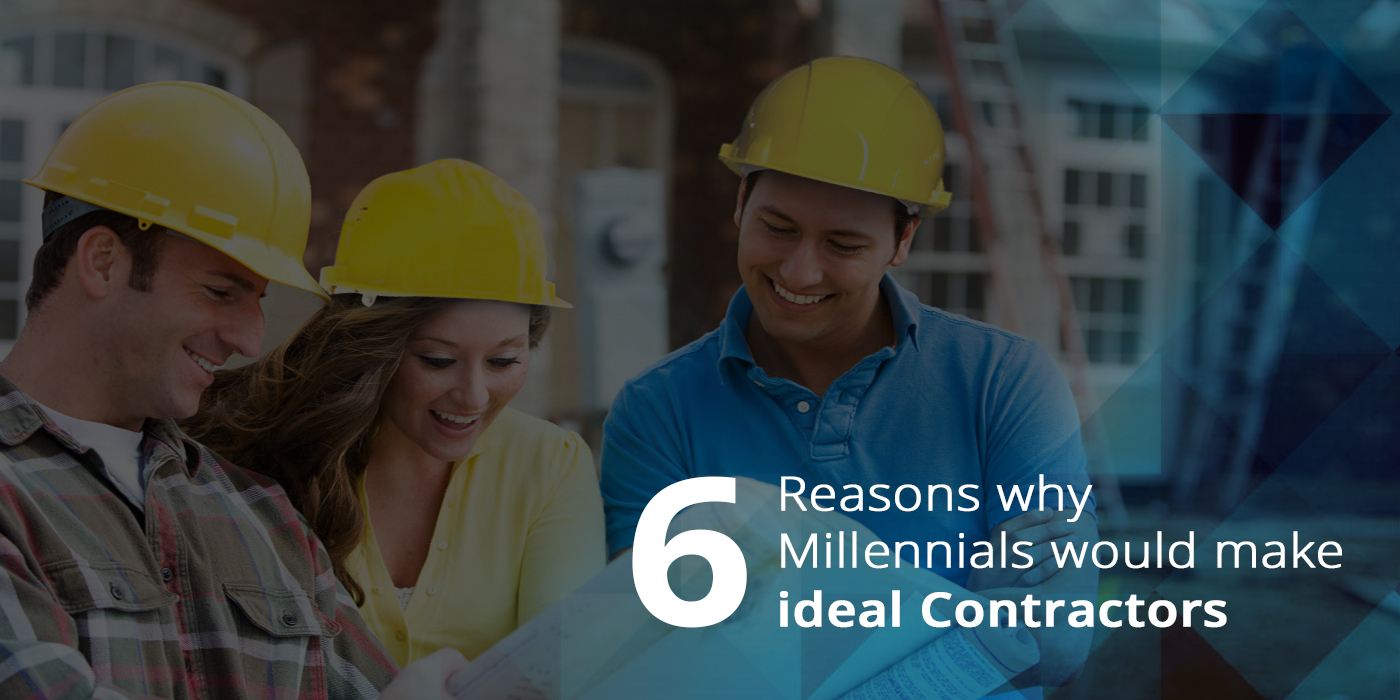 The construction industry is changing rapidly and is adapting to new technologies. With baby-boomers retiring and the problem of labour shortage looming, it's the perfect time for the millennials to take over the game. Those born between 1980 and 2000 are considered as the largest generation, surpassing the baby-boomers. Hence, companies are trying to attract these resources. As per a research conducted by the National Association of Homebuilders, there are approximately 0.2 million unfilled construction positions in US, which is an 81% increment since the last few years. So, this makes it necessary to attract millennials to join the industry.
According to the report of the prior mention association, the present scenario of the construction market in US has changed a lot. As an instance of scenario changing it has been seen that, the number of construction jobs has risen rapidly in the state of New York from 2011 to 2015, with the number of work permits rising from 98,781 to 129,267. Once we shift our focus to the big picture it's easy to identify the problem that there are not enough workers to facilitate residential construction and meet the demand for homes.
The association estimates that there are approximately 200,000 unfilled construction jobs in the United States, marking an 81% increase in the last two years!
The construction biggies are trying to bring the offline, traditionally anti-tech industry, online. With the rise of social media and improvements in technology, tech-savvy millennials perfect to adapt to these changes. To attract them, companies are becoming more flexible, providing employees with the freedom to work whenever and wherever as they wish to. So, the fixed timing of working 9 to 5 is also changing fast as priorities for the generations are changing. With so many construction jobs and rising demand, the construction industry is changing and recruiting a younger workforce. Check out the top reasons why millennial would make ideal contractors:
Great perks
With the rising demand of skilled contractors and insufficient supply, companies can spend a year or so look for the perfect contractor to work in a project. They are also ready to pay for it. So, millennials can benefit from these open positions with low competition in their way. New Homebuyers are millennials
Millennials have a unique set of values and style and as they s start to purchase homes, they are more comfortable purchasing from a peer who understands what they are looking for.
Millennials are Night Owls
Millennials usually stay awake till late night and they are the most socially active generation, despite social media getting a bad rap. They are flexible at work as they don't believe in stringent work hours. They are the ones that work efficiently and at optimum productivity levels. So, companies can expect diligent work during tight deadlines.
Technology
This is a generation that understands advanced technologies like drones, robotics, 3D printing and software to manage construction projects. Millennials use technology in their daily lives for communication, work, and entertainment. They seem to have a natural knack for it. With a lot of tech tools like construction project management software, making construction documents easier in the industry, they can boost their and team's productivity levels with faster adoption of technology.
Additionally, contractors travelling to remote job sites, it is important to track the progress of the work and this can easily be done using contractors' apps that help them work with real-time updates and be on the same page with their team.
Resilience
Contractor work is not easy, and it has its quirks. Contractors must consider themselves to be a resilient workforce. With house prices soaring high and neck-to-neck competition eating the market, it's critical to plan and work right to stay relevant. Millennials are basically young people, so it is safe to say that they love challenges and they will like to embrace opportunities for learning offered to them.
Still, think millennials can't be great contractors? Stop worrying about labour shortage and take millennials on board as these tech-savvy people can help to grow a business.