3 Mistakes of Organising a Virtual Event in Singapore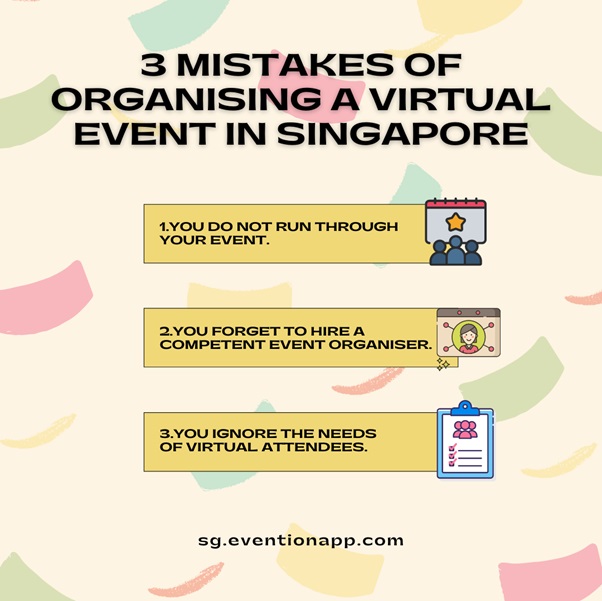 It is more important than ever before to look for ways to get together, have celebrations, communicate, and participate in all of the activities we need or want to do. Nearing our third year into the COVID-19 pandemic, most of us already have prior experience in being unable to connect with loved ones, business partners, friends, and other people. But with the help of technology, we can go virtual to enjoy an event in Singapore.
You can find many platforms on the internet to help you host events of varying sizes and different purposes. You can find anything from concerts to private parties to seminars and business meetings on the internet. All you need to do is find the right virtual event company in Singapore to provide you with the right platform and features you need.
However, once you have the right platform, that does not mean your work is done. Learn more about some of the most common mistakes that event managers make.
1) You do not run through your event. Once you have your platform, you have to devise ways for your attendees to make full use of the platform features. Just like a real event, you need an event run-through. A run-through is when you practice your event flow and test out the site's features.
2) You forget to hire a competent event organiser. Finding an event management system can help you eliminate much of the work. They might be able to connect you with your attendees properly, but you will still need a person or a team of people to arrange your event.
3) You ignore the needs of virtual attendees. Sometimes people go to the other end of the spectrum and treat virtual events like in-person events. Do not treat your audience to stiff seminars or a rigid conference-type event. Your audience will easily tune out.
Do not let any problems with a platform halt the flow of your event! Hire a virtual event organiser in Singapore that you can trust. Reach out to Evention Singapore to know more about how you can pull off a successful virtual party and more.