Taking a Look at Home Automation Systems…Why Crestron are King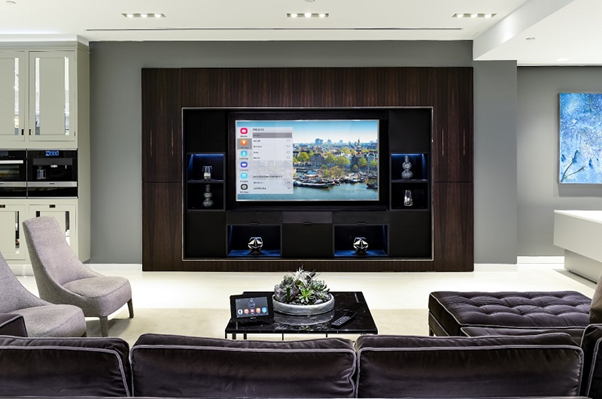 Your home should always be a reflection of your lifestyle and it should always be a place where you feel safe and secure. This means being able to know that you are both shielded from all of the bad stuff happening outside and able to enjoy all of the comforts that you can afford inside. One way that you can do that is to take advantage of Crestron home automation technology.
Crestron is widely considered to be the industry leader in home automation technology and their systems are second to none when it comes automating your home. One of the keys to Crestron's success is that their systems are designed to streamline all of the different technologies that you are interested in and puts them all into one solution.
Being able to control your home audio-video system, lighting and security on a single touchscreen controller is incredible. With more and more home devices being designed with automatic features, it is not so surprising that a company like Crestron came up with a way to make our lives easier by putting all of the controls into one easy to operate central system.
A truly automated home encompasses almost every aspect of the operation of your home that you would ordinarily have to do yourself by hand. The more advanced Crestron system has the ability to sense when you are not at home by using motion sensors strategically placed throughout every living space. By determining that you have left your home, your automated system will automatically begin shutting down unused systems to ensure that they don't waste energy and end up costing you extra money.
Crestron Systems
Crestron has been an industry leader in home automation for more than 40 years and their systems can be found in the residences of CEO's, foreign dignitaries, corporate and other business professionals. The one thing these people have in common is that they recognize the benefits of having everything controlled in a single location and the convenience of having most of the functions happening without any interaction from them.
Automation is the key to the feeling secure luxury
Controlling every aspect of the home including inside and outside lighting, audio/visual system and physical security system is extremely important. Each of the separate systems can be easily tied together and controlled by a single touch screen remote or even better on your tablet or smartphone.
Lighting – Automatic control of the lighting is an integral part of any passive security system since it is one of the most basic ways to deter intruders by tricking them into believing that there is someone home. Crestron Lighting does this very well.
Home Security – Automated home security is pretty powerful when you consider that it has the ability to arm itself when it no longer senses motion inside your home and when you couple strategically placed video cameras you would be able to know if anyone got in or needed to be let in at all times.
Audio/Visual Systems – Home theater is one of the more popular features of the automated home system. Having an audio and visual system installed with a high definition projector makes watching TV a real luxury.
We think after reading all of the infomation you can see why today's automated home is so popular and why Crestron has positioned itself as an industry leader.
Automatic trash can is also a very popular gadget that you should try.