How to Change Your iPhone's Default Ringtone?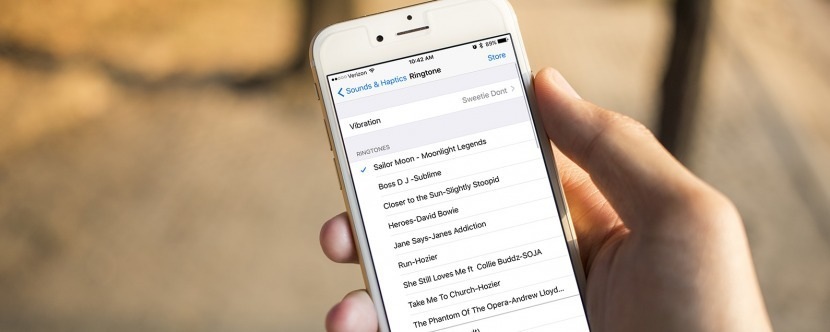 The default iPhone ringtone is good, but many users prefer to change this and try something better. Changing ringtone is one of the easiest settings to modify on iPhone. It can be done just in few steps. Changing the default ringtone to your preferred ringtone implies whenever you get a call the ringtone of your preference will be played.
To change the default ringtone on your iPhone, follow the below steps:
Open the settings on your iPhone

Go to sounds and then to ringtone. This will show a list of ringtones. Here, the built- in ringtones will be displayed as standard option. The ringtones you have added in the device will be listed under custom.

Tap on the ringtone of your choice to select it.
To change default ringtone without iTunes
If you want to change the ringtone without iTunes, use AnyTrans for iOS. This is an easy-to-use iPhone manager that helps you to transfer songs to iPhone and use it as ringtone with just one click. All that you need to do is select and transfer the song or any other audio file of your preference to your iPhone. Then, these will be converted to ringtones on your phone. This process is automatic. This also allows keeping a ringtone for about 25 seconds or 40 seconds or of the original length. The following simple steps are to be followed to customize the ringtone.
Download and install AnyTrans for Windows or Mac computer. Connect it to your iPhone. Click on the device tab on AnyTrans for iOS. This directs to the category page.                  

 

Scroll down and then click on the Audio button to choose the ringtone.

Click + symbol on the right corner and browse the song of your choice. Click the open button to transfer.
Changing the default iPhone ringtone is as simple as that. Now that you know how to change the default ringtone and set your favorite song as ringtone, you can enjoy listening to your favorite song or ringtone whenever there's an incoming call.
See also, how to transfer iPhone photos, music, videos to other iOS devices and PC/Mac with a free software for iPhone transfer.