How Reliable Is A VOIP System?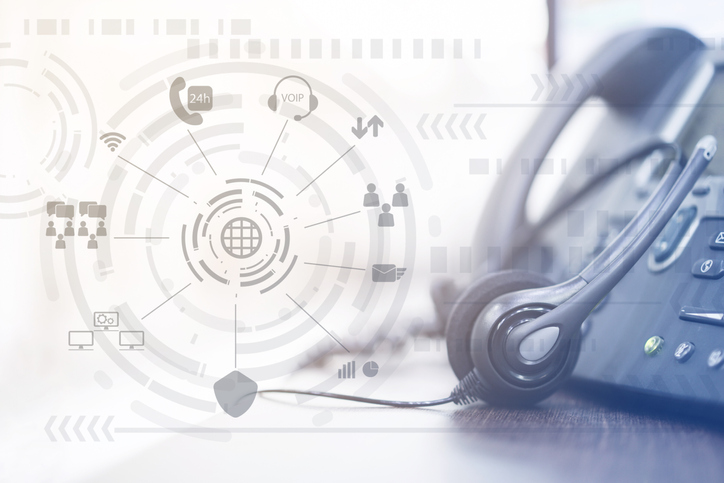 close up focus on call center headset device at headset VOIP system with virtual interface of futuristic symbol technology at office desk for hotline telemarketing and network operation concept
VOIP System: A Brief Introduction
VoIP means Voice Over Internet Protocol, and it can seem like a complex system, but these systems simply function with the use of the internet. A VoIP system is also called an online phone system or a phone system based on cloud services.  However, you need a VoIP device or a computer to use this system. Because a VoIP system is a relatively new phenomenon, many have questions about it and how reliable it is and how a network cabling company in Toronto can help you with the installation.
Is A VoIP System Reliable?
VoIP services breaks all your voice data into smaller packets. The system channels these packets and finally, these packets are orderly combined. This entire process happens within the blink of an eye and as a result, the reliability of a VoIP system depends on many factors.
Better Than Landline Phones
Jittering or audio problem is perhaps the most common problem with landline systems. But VoIP systems are backed-by advanced technology, which is why you would experience great quality audio in a VoIP system rather than the unstable landline system quality that is largely known.
Uptime
When a landline phone cable is damaged, it may take hours or days to fix it. But a good VoIP system faces 99% uptime. This means you will face only some minutes of a problem (yearly) with your VoIP system, making it more reliable.
Why VoIP Systems Perform Poorly
Unstable Internet Connection
When you have a poor internet connection, your VOIP system may not work properly. With bad-quality ethernet cables, your internet connection may become poorer. Hence, a bad internet connection may make your VoIP system unreliable.
Bad Cabling
Bad cabling means a bad network connection. Apart from that, the wrong cabling can also cause power issues. Landline phones may have simple cabling, but VoIP systems are more complex and their cabling needs to set up properly in order for it to work.
What Makes A VOIP System Reliable and Fast
1) Proper Cabling
If you don't have proper cabling, then you can never rely on your VOIP system. Data cabling is the most important thing in a VOIP system. Good quality Ethernet cabling makes your VOIP phone calling fast and flawless, which is why cabling should be done carefully.
2) Excellent Networking
The devices that you are using to run a VoIP system should have the right cables. Compatibility issues often cause data packet losses. Hence, search for a good network cabling company Toronto before installing your VoIP system.
3) High-Speed Internet
High speed internet may be provided by your internet provider. But a VOIP system requires CAT5 or CAT6 cables to improve your call quality. With inferior quality cables, you will always face bad VoIP calls. So, fast internet calls demand high quality ethernet cables.
4) The Right Configuration
Your networking needs the right configuration as the configuration will promise you good quality VoIP calls even when traffic is high. There will be no congestion or no call drops. So, a properly planned configuration is the heart of your VoIP system.
5) Testing
After configuring your VoIP connection, you should test it. A networking company would test the quality of your business VoIP calls. Thus, you would be sure that your VOIP connection is working properly.
How A Network Cabling Company In Toronto Can Help You
1) Planning
A commercial place may have a complex VoIP system. A network cabling company would plan your system properly. Moreover, they can advise you to choose the best devices and the best equipment for a VoIP system. Thus, you can get a great VoIP calling experience.
2) Bandwidth Improvement
A network cabling company is an expert in cables. They know how to increase and improve your internet bandwidth. The company and its trained team would choose the right cable to improve your internet bandwidth.
3) Cabling and Networking
Networking may look simple, but it's a truly complicated job. Only a good network cabling company can understand your VoIP system requirement. So, they can help you to have a flawless VoIP system.
4) Support
A reputed networking company would always solve your VoIP system problems. Usually, they respond fast, and they work for 24 hours. Hence, contact a network cabling company and maintain a healthy VoIP system.
Conclusion
VOIP calling systems are highly secure and they are cost-efficient. Moreover, you can access remote places using this system. Hence, VoIP is a reliable system if you have the perfect setup.
Seek out for a network cabling company Toronto and choose an experienced company to install your VOIP system.