How great is the Mamba electronic herbal grinder?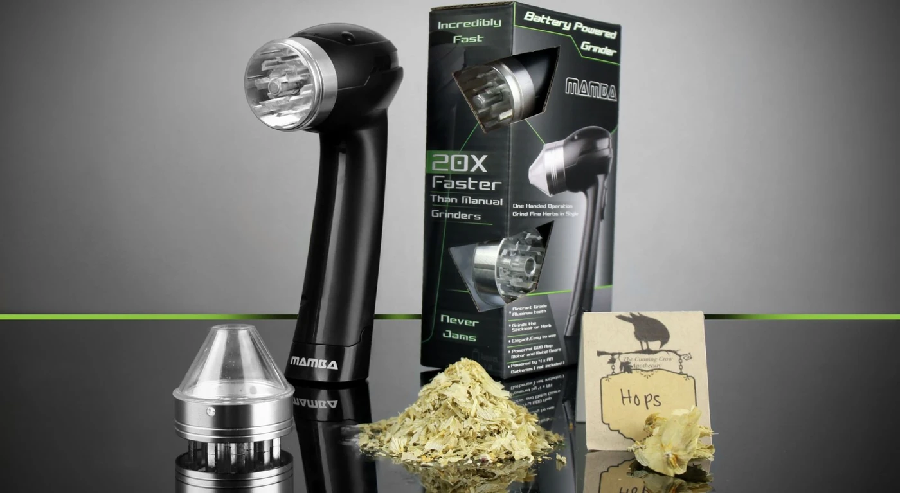 My friends call me an herb connoisseur. I consider myself a purveyor of fine things. I appreciate equipment that looks nice (nothing cheap-looking), machinery that performs consistently at a high level of quality, and a grinder that doesn't make me do all the work. After all, I buy grinders to grind for me, not to have to do all the work anyway. As such, I turn to electric or battery-powered grinders,but have been met with poor battery life, low power, and frequent jamming. I was very pleased with the Mamba electric herb grinder – it did not get gunked up, it was predictable every single time, and I was able to appreciate the full odour and potency of my herb. The Mamba grinder battery lasts ages on a full charge, and you can really tell that this is a quality machine, and that it was designed and engineered with pride.
The grinder
Perhaps my favourite feature of the Mamba grinder is the one-handed operation. The cone shaped funnel allows for precise dispersal of my herb without risk of spilling or wastage. Comparing the Mamba herb grinder to my usual grinder was easy: Mamba was the clear winner. I was also amazed at the high-quality of the moving pieces. When you take the grinder apart to place your herb in the discs, you can tell how precisely and accurately they fit together. This is instrumental to a consistently fluffy grind. The Mamba grinder is so simple to use and ground so flawlessly – I became an immediate convert at the first use.
Surprise bonuses
One of the most astonishing things I have discovered since using the Mamba grinder is that my herb seems much stronger and has a more unique flavour profile. Having the right grind with the Mamba really improved my herb experience; I thought I had it down to a science, but I was wrong. The smoothness and aroma of my herb was unlike anything I have been able to accomplish with another grinder. You can tell that a lot of care went into the selection of body colours as well. There are four beautiful colours to choose from, and you can pick whichever compliments your tastes and décor the best.
Quality and engineering
From the first time you use the Mamba herb grinder, it is obvious that it was designed, engineered, machined, and assembled with incredible care and attention to detail. The manufacturer chose to go the extra mile and use aircraft-grade aluminum. The details don't end with function though: the designers to special care to build a grinder that is not just technically superior, but that looks so good you could display it in your home. The high quality of the Mamba grinder is absolutely unparalleled. The Mamba grinder consistently lives up to the high standards set by the designers and manufacturers – high quality equipment leads to a high-quality product, and subsequently a high-quality grind. I've said before that I value and appreciate nice things. The Mamba grinder fits the bill.
TL;DR
I was skeptical at first – I have tried many grinders, both manual and electric/battery, only for them to underperform and deliver poor quality grind. In a few cases, they completely ruined my herb. The Mamba grinder has absolutely blown me away with its stellar quality and phenomenal design. Other electric grinders I have tried were poor quality, regardless of the price paid, and felt cheap and gimmicky. They jammed, lost power, and cost an arm and a leg for the privilege of ruining your herb. The Mamba grinder is absolutely worth the price, and you owe it to yourself to get the most out of your herb. The Mamba electric herb grinder is definitely the best way to unlock all the aromatics, potency, and flavour profiles of your herb.