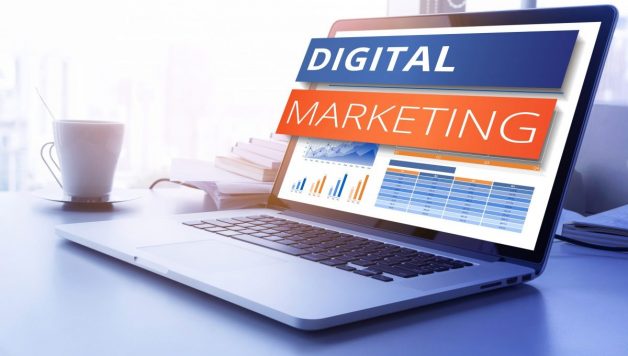 How Digital Marketing Can Increase Your Sales
Published On August 15, 2018 |
Technology
With so many people looking for local businesses and doing their shopping online, if businesses want to remain relevant and be able to compete, digital marketing is no longer optional.
Whether you want to build brand trust and increase your visibility, improve communication with customers, or make it simpler for people to find you, there are many different reasons why an online presence is a must-have. At The Best Media, many of our clients tell us that they're investing in digital marketing because they're looking to make more money.
So, if you want to boost sales for your business, here's how digital marketing can help:
Reviews
If you want to bring more customers to your store, increase e-commerce sales, or both, ratings and reviews are the best way to convince potential customers to go with your business.
Reviews can be the deciding factor when people are choosing a business. Almost half of those who responded to a BrightLocal survey said they will only choose a business if it has a four-star rating or higher. The survey also concluded that:
85 percent of people will trust online reviews just as much as personal recommendations.
73 percent of those surveyed said they have more trust in local businesses with positive reviews.
68 percent of consumers will leave a review of a local business if they're asked to do so.
As you can see, reviews are incredibly important when it comes to attracting new clientele, and it's not too difficult to get them. You can simply ask regulars to write them or explain to customers who've complimented you on your services how significant reviews are and ask them to write one.
And don't forget, it can be just as easy, if not easier, for you to receive bad reviews, but it's best to address bad reviews by quickly responding to people's concerns in a positive way.
Social Media
If you don't have a presence on social media sites like Facebook and Google+, you're not even going to be able to get reviews. And there are a multitude of other benefits to having a social media marketing plan, whether it's building your audience and creating brand awareness, to all the ways social media allows you to interact with your customers.
All of these interactions help to boost your site's ranking on Google, but you've got to provide content that's exciting enough to make people want to hit the like button, comment or share your content. And in addition to social media being able to boost your ranking, which means it'll be easier for people to find you, you'll gain traffic from those who are clicking on the links that other people have shared.
Social media also gives you the ability to have direct communications with customers. Responding quickly to customers' comments make you look more trustworthy and improves the satisfaction of your customers because you're showing that you care about them. There is nothing quite like commenting on a post from your favourite brand and then getting a response from them just minutes later.
In many cases, these benefits will quickly translate into more sales because it's easier for people to find you and people will be more inclined to give you their business. In a survey from the United States Chamber of Commerce of 1,000 small businesses, 60 percent of those surveyed said their company uses Facebook, and 56 percent of respondents said that Facebook has helped them to increase sales.
Video
Due to the popularity of video sharing websites like YouTube, video has been able to dominate the Internet. A study from Cisco found that by 2021, video will account for 82 percent of Internet traffic from consumers. This shows how vital it is for businesses to make investments in video production services.
These are some of the benefits that video provides:
Video is prioritized in Google's search results, which means it can increase your brand's visibility through SEO optimization.
Video improves awareness of your brand and increases traffic, as people prefer video content and are more inclined to share video content compared to other types of content.
Product demonstrations, explainer videos and tutorials give businesses the ability to show their expertise and provides customers with valuable content, which makes them trust your brand more.
Video can convey more information in a shorter amount of time, and people tend to retain more information from videos than they do from textual content.
Improved awareness, retention, trust and visibility give prospects and returning customers a more positive opinion about your business, which can result in higher sales. In a survey from Wyzowl, 81 percent of respondents said their explainer video has helped them to increase sales. This survey also found that:
Video has helped 76 percent of businesses to increase traffic to their website.
84 percent of consumers have been convinced to make a purchase after watching a video.
Marketing Automation
Marketing automation software allows you to automate sequences of actions pertaining to specific situations.
Picture the following scenario – someone adds an item to their cart in your e-commerce shop, but then decides not to buy and abandons their cart. 30 minutes later, the software sends them an email discussing the benefits of the product that was in their cart. If this doesn't convince them to buy it, a couple days later, another email could be sent offering them a discount on that product if they purchase it within 48 hours.
This sequence of automated email marketing actions provides just a basic example, but there is a lot more you can do with it. These programs also have detailed tracking and monitoring abilities, allowing you to keep track of the behaviour of current and potential customers. This will help you to understand their motivations, which gives you the opportunity to have custom communications prepared for any possible situation.
This kind of data also gives you a good idea of which leads and customers should be prioritized, so you can contact your most promising prospects first and give them the most relevant response. Sending the appropriate correspondence as quickly as you can will show customers that you value them, and this will work to improve your credibility and trustworthiness.
A Harvard Business Review study found that when businesses reply to potential customers' inquiries within one hour, they're nearly seven times more likely to qualify that lead than those who wait for more than an hour, and over 60 times more likely than businesses that choose to wait 24 hours or more. In any case, the faster you respond, the more likely people are to make a purchase, and automation allows you to respond with unsurpassed speed.
Do you want to boost your sales with digital marketing? Let us give you a free demo of what The Best Media's video production services and social media marketing services can do to help you reach your goals.