5 Tips for Creating Your Business Intelligence Strategy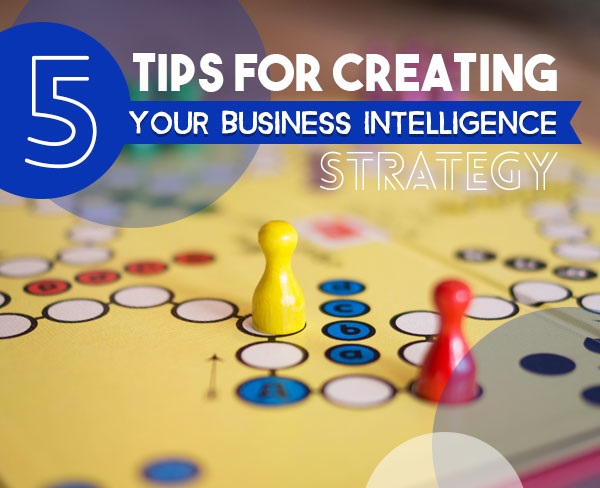 Big data is inevitable. There is perhaps no other way to keep abreast and relevant in today's business landscape than to harness the intelligence capabilities of data that are incessantly generated, collected and transferred daily.
An organization loses a huge opportunity if it leaves these data unstructured and unprocessed. Aside from NOC support, a properly set Business Intelligence Strategy for an organization makes sense with the abundance of data. With this BI strategy competitive advantage and success can be guaranteed.
If you are set on developing your own BI strategy, here are our 5 key advices and tips that you should consider:
Have a Well-defined Business Intelligence Strategy
Before delving into specific tips for developing your BI strategy, it is important to grasp the core reason why you need this strategy; and that is to avoid the chaos of having unstructured data. In today's world, Data is power. A huge amount of useful data that are generated, transferred and collected daily could provide useful and actionable insights to you–but only when stored and processed correctly.
Guy Garrett of Achieve Intelligence Ltd. proposed the five core areas of BI Strategy:
BI Roadmap – the definition, limitation and scope of your Business Intelligence.
Stakeholder Management –  delegation of duties and tasks to the right people.
Architectural Blueprint – the structure of your Business Intelligence provisions and strategy.
Capability Improvement – an audit of the process, people and infrastructure to identify areas of improvement.
Implementation Planning – the scheme on how you will set the BI strategy at work.
See his Guide to Developing a Business Intelligence Strategy.
Start with your Business Problem
Business Intelligence is meant to be a great tool for solving your business challenges and problems. It is not much concerned about merely structuring and processing your data. It is, rather concerned about providing the answers you want to get to solve a problem or challenge in your business. Hence, identifying your business problems and concerns come first, selecting the right metrics comes second, and identifying your sources of data comes last.
This arrangement of process is at the core of achieving the purpose for which you set up your BI. This gives you focus and makes the BI team driven by the results they want to achieve as it helps in decluttering your data set.
Take an ownership over Business Intelligence
Boris Evelson, principal analyst at Forrester Research advised that you should be in charge of your own BI. Tacitly, having absolute ownership enables you in so many ways to achieve greater success versus having it relegated to the IT department alone. Gone are the days when the BI programs are solely at the hands of the IT. Today's BI technologies offers a more intuitive dashboard and interface that lets business owners extract relevant information and run queries without much technical knowledge.
Similarly, if you are going to import a team to implement the Business Intelligence strategy, make sure you set an on-going handover process for a smooth transition of the duties to your staff.
Secure an Architectural Blueprint
An architectural blueprint should be a given in your Business intelligence strategy. It means you have to shell out enough time with the right people to develop your Blueprint. This blueprint will guide you through structuring your BI provisions to achieve the most effective and efficient way of delivering the information you need for your business.
Securing a distinct blueprint is important, because your business has unique needs and circumstance that requires an individual blueprint. For instance, a Management Information may suit a company but a Business Intelligence Competence Center would fit more profitable for another. This choice boils down to the right BI Architectural blueprint of an enterprise.
Capability Improvement of Staff
You will need the right people to take on the lead in analysing business intelligence data and information. These workers are inquisitive and analytical who ask the right questions and know how to gather, clean and turn data into actionable insights. They don't have to be highly technical skilled people, rather you want staff that are adept in your business goals and processes and can harness these information for extracting actionable insights.
These workers tell stories with the information they get from your BI technologies. And they help key stakeholders understand them to achieve the answers and solutions they need to get.
Author Bio:
Darrell Smith is a data/cybersecurity news junkie. He spends most of his time surfing the web for the latest data and network operations center trends. He also shares his recent findings through his articles and other blog posts.