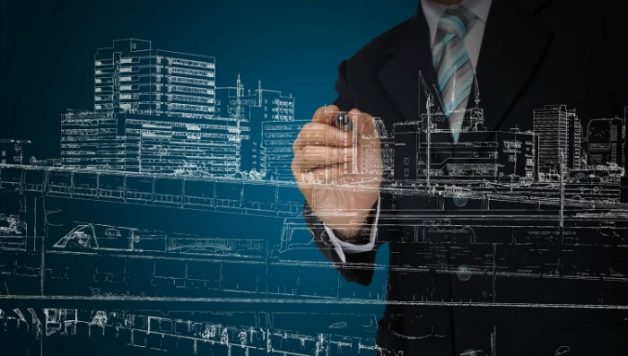 4 Futuristic Construction Technologies That Will Reshape How We Build 
Published On October 9, 2018 |
Technology
The construction sector is undergoing a considerable change. Along with the increasing digitization of work processes, social and economic trends such as sustainable, healthy living, greater energy efficiency and reduction of CO 2 emissions are expected to shape the coming year of 2019. Researchers from all over the world are working on new construction materials and innovative facade systems, which will undoubtedly affect long-term. 
Implementation of BIM technology On The Cloud 
The arrival on the market of more efficient materials and new more complex constructive solutions, together with a growing increasingly demanding regulation and the obligation to present projects with real and contrasted data, will make it necessary to expand the massive databases that already we have, incorporating the technical specifications of each of the new constructive solutions that arise.  
These data, also, will have to be connected in a natural, intuitive and straightforward way with the different software for architecture, engineering, and construction used by the technicians to do their work in a fast and agile way. To achieve this purpose, the use of BIM technology will be fundamental in the future and, apparently, its use will be standardized in the future and could replace the current CAD technology. 
In the application of the BIM, the generation of BIM objects by the material manufacturers (this part of the critical sector appears again here) is going to play a fundamental role.  
To those above will be added, and there are cases, the work in the cloud by different technicians working on a project, replacing the traditional private linear process by a shared process that is fed back into each stage as that increases the level of detail, allowing us to analyze mutual interactions between different areas.  
In short, the trend will be to have a platform in the cloud to support architects and project specialists to integrate and share all the work that is usually done by several people in a completely independent way. 
The arrival of new technologies 
The professionals of the construction sector must prepare for the incorporation of new communication and information technologies. Other industries, such as medicine or health, have already advanced in their use, but construction is already beginning to coexist with them.  
Use of drones for advanced topography and monitoring of works, use of smart glasses (research project ACCEPT) in the work itself, input of 3D printing applied to rehabilitation and new work or virtual reality on foot of work are some of the new technologies that we are already beginning to see in the construction works and that, inevitably, will settle in the coming years. 
Engineers will embed advanced technologies and sensors in construction equipment like plastic Jersey barriers, stop lights, and even stop signs to help direct workers and keep machines working properly. This approach to technology in traditional equipment will help build an improved way to complete projects for less money and in less time.  
One of the trends that make up the construction sector in 2019 is the concept of smart homes (the digital network of construction services, electrical appliances, and entertainment electronics).
Integrated manufacturing in construction 
Undoubtedly, modular construction and integrated manufacturing in construction play an increasingly important role throughout the world. It is expected that this trend will increase by 6% worldwide by 2022. The development focused on logistics will also be a catalyst for greater globalization.  
Currently, 95% of construction projects are carried out by local firms that work with local materials. But we see that this is changing. The components and personalized elements and on a large scale will be obtained more and more worldwide, which means greater competition and margins.  
It is a significant change for an industry that has traditionally been highly specific to each country. But for operators, agile enough to start planning and managing logistics, and investing in new joint ventures, the profits could be huge.  
With the growing scarcity of human capital and the need to build more quickly and profitably, it will be a crucial competitive advantage to invest in appropriate technologies and professionals, as well as to find business partners to take advantage of integrated manufacturing in construction. 
Conclusion 
The three tendencies are woven together. Contractors must work hard to ensure the right competencies while considering how to implement new business models for modular buildings and integrated manufacturing in construction.  
And all this, in an industry that is becoming more global and offers new forms of association. Those players who reach the balance between these trends will be the clear winners in 2019.