3 Critical Questions To Ask Your IT Maintenance Service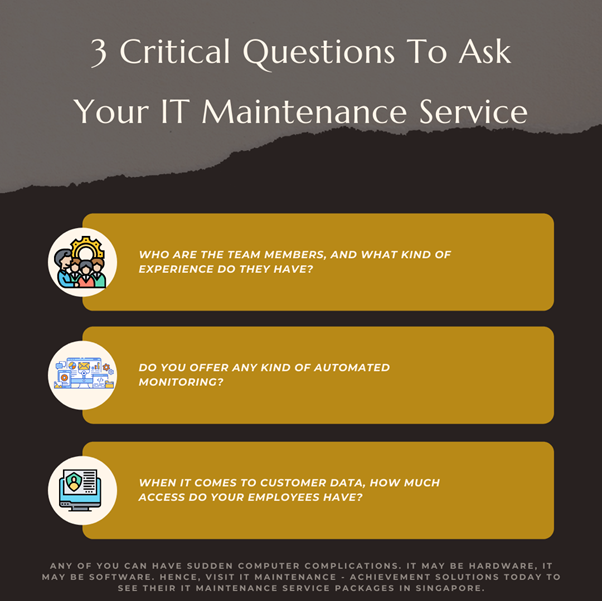 A lot is on the line when it comes to IT maintenance, from security practices to disaster recovery and more. If your company doesn't have an IT department, you are not considered technologically well-equipped. You can't afford to work with a service provider who makes big promises but then doesn't deliver, or worse, one who doesn't uphold ethical principles.
This article is a list of three critical questions to ask IT maintenance companies before hiring them.
Who are the team members, and what kind of experience do they have?
Getting to know the people on your IT maintenance team in Singapore is just as important as learning about the company's core competencies. You want to work with people who are well-versed in the issues facing your industry and who have a thorough grasp of the short- and long-term goals of your business.
Do you offer any kind of automated monitoring?
Automated and remote monitoring from any IT maintenance service in Singapore you're considering should be available around the clock, seven days per week. This is a must-have for everyone. If providers don't use automated monitoring, it can take a long time to check systems and figure out what went wrong. There is no way you can afford that much time off.
When it comes to customer data, how much access do your employees have?
If you're considering moving your data to the cloud and entrusting it to IT hardware maintenance services, it's critical to know whether the service provider's staff can access your data. This is especially important if you have data that needs to be protected from unauthorised access or disclosure to meet regulatory requirements.
Any of you can have sudden computer complications. It may be hardware, it may be software. Hence, visit IT Maintenance– Achievement Solutions today to see their IT maintenance service packages in Singapore.