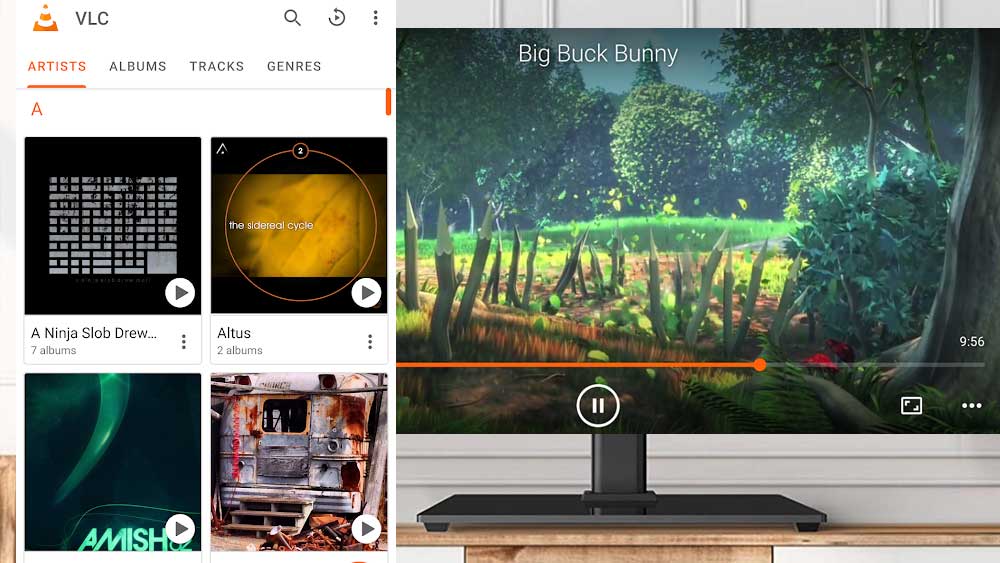 Music, Movies, Shows, and other media have come a long way since its origin. The ability to communicate and showcase skills, talents, and feelings of humans have been greatly depicted through forms of media. I have one simple question for you, is there a single day you've gone ahead without listening to some music or even occasionally some movies and other modes of entertainment? I'm pretty positive the answer to that is a no. 
We all love some good music, movies, or exciting shows. However, accessing all of this needs to be made possible with no hassle or worries. And that's exactly why you need to get your hands on VLC Media player that is available for all android users for absolutely free. 
It is the best open source and cross-platform multimedia player that makes it possible to play almost all forms of multimedia files including devices, discs, and other protocols of network streaming. Say goodbye to the frustration of finding an appropriate multimedia player to play all your files! You might come across man multimedia players, but the numerous ranges of features of VLC Media Player will guarantee the best for all its users!
Features of VLC Media Player
VLC media Player has the ability to play just any multimedia file of yours. It might be a video, audio file, network streaming, DVD's or even drives. No matter what it is, VLC Media Player has got you covered! It comprises of equalizers and filters that will ensure all audio formats to be played with no hassle whatsoever. 
It supports formats of MOV, MKV, Ogg, MP4, FLAC, M2TS, TS, AAC, and Wv so you know all of your files can be played. The app comprises of all codecs and requires no separate downloads unlike any other multimedia player app. 
VLC Player also supports subtitles, Closed text, and Teletext so you can enjoy foreign content or even read better while munching your snacks out loud! VLC especially for android, includes a media library for all your audio and video files so you can directly browse folders and locate exactly what has to be played. It also supports multi-track subtitles and audio. This way, you can choose which language or audio suits your preference best. Auto-rotation, volume control, brightness, aspect-ratio adjustments, and seeking is also freely available on the app and will ensure to provide you with the best watching experience. 
VLC requires no in-app purchases or any other requirements so all you have to do is download the app for absolutely free and enjoy the range of its features at ease. With VLC player, you can now play all your multimedia files of different formats in just one place. Enjoy your media, hassle free at ease!
Install VLC Player on Android TV and Fire TV
Most powerful and easy to use TV media player. You can install VLC TV app using any third-party TV app installer. Here we are using AppLinked app. First download and install latest version of AppLinked apk on your Android TV or Fire TV. Then find popular AppLinked codes to access AppLinked store. Check on first three AppLinked stores for VLC player. There are many similar apps like AppLinked. For example, FileSynced, UnLinked, Aptoide TV and etc. You can use any of those TV app stores to install this awesome TV media player.
Tags :
Android TV
AppLinked
VLC
VLC App
VLC TV App