MilesWeb Review: Is its Shared Hosting Plan Suitable for Your Site?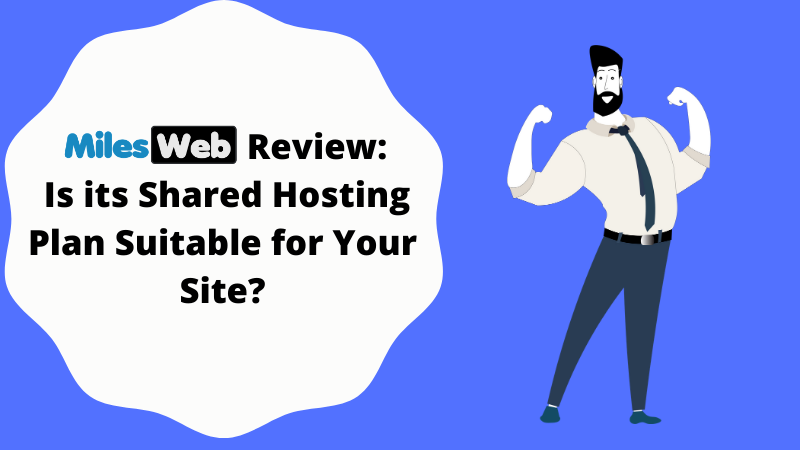 The pandemic made everything, every business every domain approach to an online platform. Small scale businesses, large scale businesses, malls, outlets, educational institutes started to use various online platforms to keep the operations up to date.
Being working in an educational institute it became critical for me to share the consolidated notes and educational data with students on WhatsApp, Google docs, etc. I found out the data is scattered and need to bring it to a platform where students from each class can have access to it with a single click. I researched for options and concluded that creating a website and hosting is the fittest option where my data will be consolidated and structured.
There are various content management systems (CMSs) enabling you to create and manage websites of your choice. You do not need to spend money to get your website developed by developers these days. WordPress, Magento, Joomla, etc. are some of the examples of CMSs.
As developing a website is easy hosting a website is the easiest if you have the right hosting partner. Just creating a website won't help if you do not host it.
What is Web Hosting?
Once you develop a website you must make it visible to the audience over the internet. Web hosting is the process of making your web pages available to the users by saving them on the servers. The servers are the storage medium that has resources for the websites. Every server has various resources like storage space, RAM, bandwidth, domain, control panel, website builder, database, etc.
When it comes to deciding where to host your website, you'll have a lot of choices to choose from. Aside from choosing which company to host with, you'll need to figure out what kind of hosting plan is best for you.
For those who are just starting with their websites, shared hosting is one of the most popular hosting solutions. But what exactly is shared hosting, and is it right for your website?
What is Shared Hosting?
Your website shares a physical server with a number of other websites in shared hosting type.
Every website on the internet is stored on the server — or 'hosted'. This is how it becomes accessible to the audience. When anyone types the URL of a website into their browser, the browser uses that address to figure out where the site is located.
The browser then asks the server for details about the website. The server sends all of the required information, and the browser displays the web page. The user will then interact with the web by moving to different pages.
Advantages of Shared Hosting:
No technical maintenance required
The shared hosting server's technical management is the responsibility of skilled professionals. As a result, you will concentrate on running your company rather than thinking about the server that hosts your website.
Shared Hosting plans provide web hosting control panels. With Shared Linux Hosting you get cPanel, and with cheap Windows Hosting, you get Plesk. These panels make it easy to handle your websites, DNS settings, and email settings, among other things.
When it comes to web hosting, shared hosting is the most cost-effective alternative. If you want to test the web hosting types before making a significant investment in your website, shared hosting is an excellent option.
Out of many web hosting service providers, MilesWeb is the most reliable and significant web host in the hosting market. MilesWeb is India's best web hosting company. The company was established in 2012. MilesWeb has a 70+ web hosting plan. The company proffers shared, dedicated, reseller, VPS, WordPress, etc. types of hosting at affordable charges. MilesWeb has more than 30,000 happy customers. The company provides the best customer support for 24*7*365 regarding any web hosting query. MilesWeb stands first as it has data centers around the globe. The company gives a 30-day money-back guarantee on all the shared hosting plans.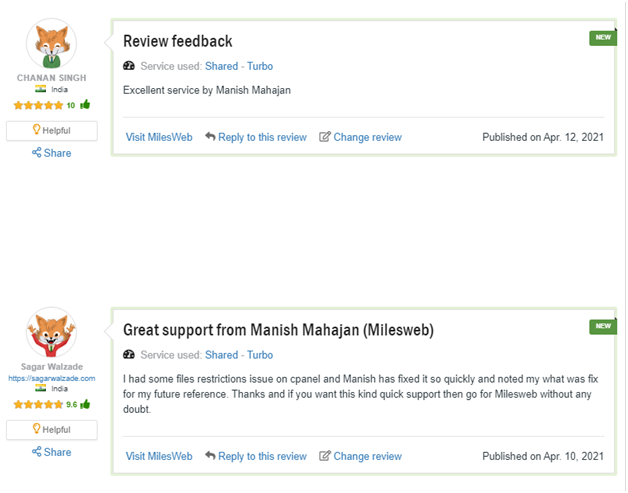 Shared Hosting Plans by MilesWeb
MilesWeb has three plans for shared hosting namely Tyro, Swift and Turbo.
The Tyro plan has the following resources:
Host 1 Website
1 Free Domain included
10 Email Accounts
1GB SSD Disk Space
Unlimited Bandwidth
Free SSL Certificate
Website Builder
Control Panel + 1 Click Installer
WordPress Optimized
3 MySQL DB's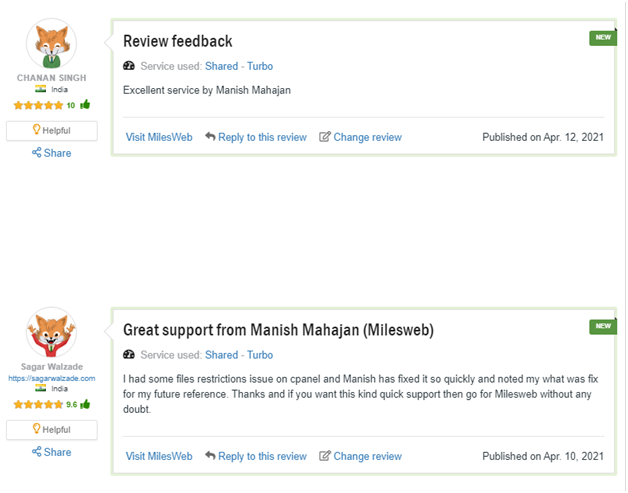 The robust features MilesWeb provider for the growth of your website are:
Free SSL Certificate
Free Site Builder
SSD Storage
Secure Email Accounts
Control Panel
1-Click Installer
Latest PHP & MySQL
Instant Account Setup
Malware Scan and Removal
MilesWeb takes care of the security, updates and back-ups of your website. You get a one-click installer that enables you to install 400+ applications in a single click. The website builder provides you thousands of free templates to build your website. MilesWeb has the best storage facilities. SSD storage is the fastest and the most reliable storage medium for websites. Using the control panel, you can easily monitor your website. With MilesWeb's unlimited web hosting, you can easily complete tasks instantly, comfortably, and consistently. You can use a control panel to build FTP accounts, databases, and email accounts, among other things.
To conclude:
MilesWeb is the company that provides you the best shared hosting plans at the cheapest rates. You also get the best features and functionalities for your website from MilesWeb. Without a second thought get MilesWeb's shared hosting plan for your website.