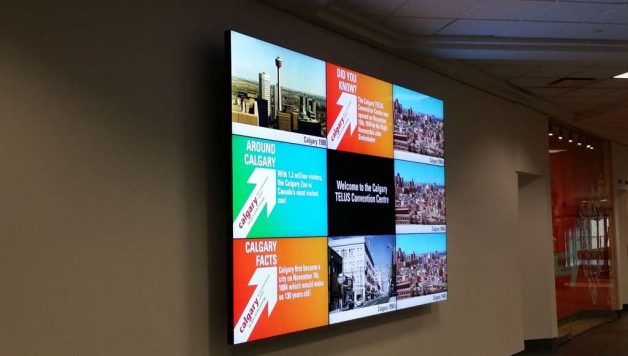 How Video Walls can be used to market your Business Effectively
A big part of any business and the work that they do is the way that they market themselves and get their brand name in front of potential customers. With advancements in technology over recent years, a good way to do just that is to invest in video walls, of which are perfect for making an impact on anybody that comes into contact with them.
Digital signage alone is already an effective marketing method, so by using video walls you are taking advantage of a proven technique, just on a much bigger scale. If you are able to create unique, eye-catching and engaging content to be displayed on your video walls, then it is likely that consumers will have no choice but to take note of whatever message you are trying to get across.
What are Video Walls?
A video wall is a number of screens (at least two) placed together to essentially create one large picture for your content, with video walls typically making use of LED or LCD displays. Video walls can be very flexible, allowing you to display a whole variety of content on varying shapes and sizes of displays. As with video walls you use a number of different displays, the resolution is much higher than when using a single display screen due to the larger display area being used. As well as this, video walls use an external device for image and video processing, which is once again more powerful than built-in processors that are used for single display screens.
By making use of a video wall, you are able to increase your brand awareness by using fantastic technology on a big scale. Video walls are fantastic for leaving a mark on consumers whilst also getting a message across to them, mainly because of the large size of video walls used by businesses. As this is such a good way of getting a message to potential customers; product launches and promotions are the perfect types of content to display, helping to boost sales. Video walls used to be somewhat unavailable to some businesses, due to the fact that the technology wasn't quite as accessible, and the expensive costs were pricing people out. With technology now advanced and more readily available, even smaller businesses are just as likely to use video walls as larger organisations are.
How to Make the Most of your Video Wall
As video walls are fantastic for promoting your business and increasing brand awareness, they are likely to have a strong impact on the success of your business, providing that you get it right. Video walls create large spaces for you to display your engaging content, but there are a number of different things for you to consider when implementing one, in order for you to achieve exactly what you are hoping to.
Set Goals for your Video Wall Campaigns – Your reasoning behind implementing a video wall must be based on business decisions from your end, rather than anything externally influencing your decision. You should consider how it is likely to impact you and your business, taking into account what you are hoping to achieve and everything that you need in order to do so. It's very important for you to consider the type of content to use, the location of the video wall and the amount of budget that you have available before taking the plunge.
Producing the Best Content for your Video Wall – The first thing for you to consider is the type of content that you are looking to display, as this will have a direct impact on the hardware that you purchase for your video wall. Although the content needs to have a big focus on being engaging and interesting, the formatting of your content is just as important, to ensure that it is displayed in the best possible way. When creating the content, you should always aim to keep it as fresh and as current as possible, as there is nothing worse than consumers seeing the same old message every single day. The content that you display also needs to be bold and eye-catching, to make sure that you appeal to your audience and leave a lasting impact on them.
Choosing the Perfect Location – Not only do you need to consider the best physical location for your video wall to be most effective, you also need to consider how the location and the video wall marry together. How will the video wall be positioned? How much square footage do you need to fill? What is the lighting like? What are the cooling requirements of your video wall? All of these questions need to be answered when looking to find the right location for your video wall, to ensure that it is used in the best way possible.
Richard Murton is the Managing Director at Display Technology. The company is part of the global FORTEC Data Display Group based in Germany and consists of specialists in TFT, LCD and touch screen display solutions