Find out the Interesting Features of Spectrum Internet that you must know in 2018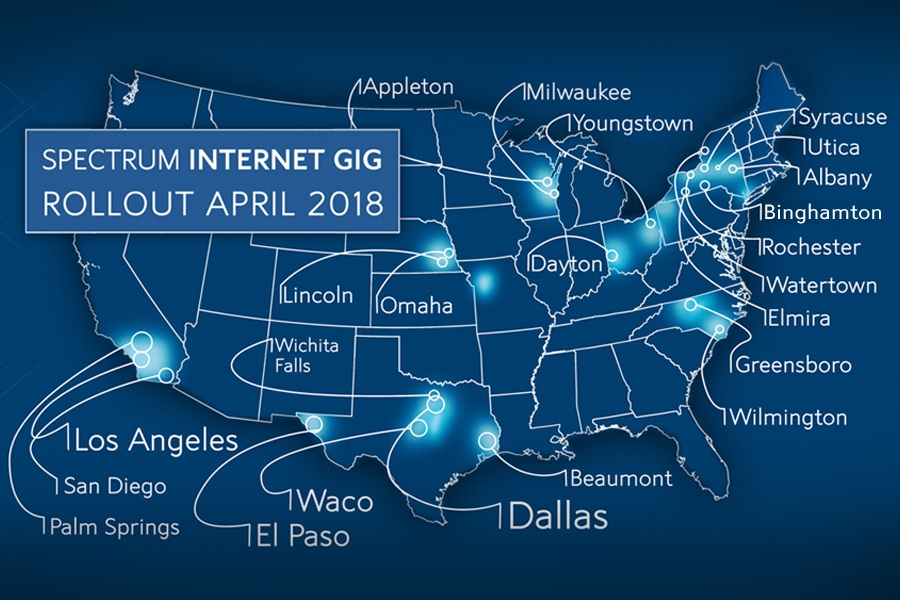 Giga Speed:
The factor which controls our internet usage is the speed we get. Typically, the users get a speed ranging from 60 Mbps to 100 Mbps. That speed is enough for normal usage. But for an advanced level of internet experience, we must need a better connection. The internet has been growing with up to the mark developments each day since its beginning. One of such astonishing progress is gigabit speed of the internet. It means users will get up to the 1000 Mbps speed and that is happening right now. In the US, many internet providers have started to provide gigabit speed connection and one such provider is Charter Spectrum.
Charter Gigabit Internet:
Charter has achieved this milestone successfully in 2017. It offers internet speed up to 940 Mbps. Initially, it is available for these areas in the US; Austin, Dallas, LA, Milwaukee, Oahu, NY City, Kansas City, Orlando, and Springfield. But it is expanding its gigabit network every month to various cities in 41 States. Overall, it has 27 million users of gigabit speed internet connection.
Lowest Price in the Market:
The remarkable feature that distinguishes Charter from other providers is the lowest price for this ultra-high speed connection. If we compare all providers' Giga speed internet offers, Charter will stand on top in the context of affordability. Therefore, it has rapidly enhanced residential customers' network into millions.
Things that only Giga Speed Can Do:
Does having such an ultra-speed connection makes a difference than regular 100 Mbps connection? Undoubtedly, it will reshape the pattern of internet usage. We will discuss some aspects that we can enjoy if we have Charter gigabit Internet.
Get Speed as much You Need:
The most astonishing feature of this service is we get the speed that we desire (not that we have to accept). Whether it's about movie downloading or uploading large data on the cloud, it's now a matter of a few seconds. It will save a lot of time that users spend waiting.
Live Streaming as it's happening in front of You:
With the standard connection, we may face interruptions during the live streaming online. But with Charter gig, live streaming has become so fast that you feel like it is happening in front of you. Users can watch live streaming as much as they want to.
Simultaneous Speed on all Devices:
Gigabit internet is enormous to provide work efficiency. While in a large family or a business organization, everybody needs to work on their devices simultaneously. This simultaneous working online may result in slow internet speed for all. But Gig speed ensures that all of the devices get the same speed for maximum work efficiency regardless of the number of devices. So it's unique that we cannot get with the regular internet plan.
Say Bye to Buffering of 4K Videos:
Video resolution has now surpassed the HD as it is offering 4K or Ultra-HD videos. Watching 4K videos with regular speed is an annoying task as it causes buffering of the video. Charter Gig relieves its users from this hassle. With Gig speed, users enjoy the uninterrupted experience of 4K.
Professional Efficiency at Its Peak:
Charter Gig is now also available to the small and medium business organizations. Through this plan, companies can ensure the professional efficiency of its employees at maximum. Professional can complete the online transactions especially financial transactions within seconds. Also, the coordination between the employees paces up which will deliver in result a better service and product quality. Moreover, it provides better real-time connectivity between the employees.
Charter Internet Gig Package:
Charter Spectrum internet bundles offer the best features with maximum service quality.
We will discuss only Gig Speed offer.
This package provides
Specially designed for business purposes
940 Mbps download speed
35 Mbps upload speed
9% network reliability
35 times faster than regular DSL
FREE For Business Customers:
Free web hosting
Free unique email address
Free cloud backup
Free Wi-Fi for customers and employees
Free modem
Free Security Suite
Call Charter and Get Giga Speed:
So gigabit internet speed is the ultimate solution for the next level of internet experiences; both for the residential and business community. For more details about the giga Speed, contact Charter's official retailer My Cable Internet.