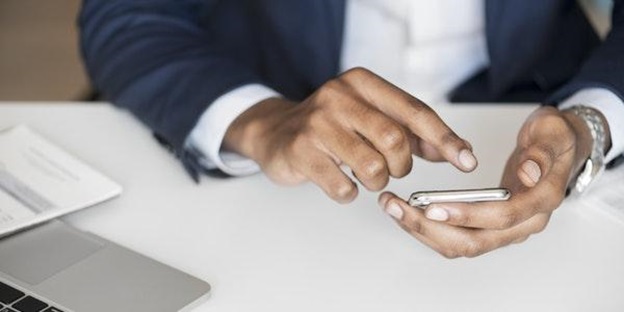 Your Smartphone Can Help you with your Finances
Published On January 22, 2019 |
Technology
The smartphones of today are amazing devices in comparison to the cellphones of yesteryear. Beyond the tasks of calling and texting, smartphones can improve every single step of your day. In the morning, the phone's alarm can get you out of bed, a public transportation app can get you to the bus on time and you can spend your commute reading world news.
One of the most useful things that your smartphone can do is help you with your finances. Here is how the phone sitting in your back pocket can be used to easily save money, borrow money and earn money:
Save Money
You don't have to look through your bank account and scan through all of your past purchases to see the problem areas that are siphoning dollars out of your account. There are lots of mobile apps that will do all of the hard work for you so that you can save yourself time, too.
One of the money-saving mobile apps that can stop you from wasting your hard-earned cash is ClarityMoney, which combs through your bank accounts to find expensive blind spots, like unwanted subscriptions. Once they find the blind spot, they eliminate it for you.
The app Acorns automatically rounds up the prices of your purchases to the nearest dollar and takes the extra change into a taxable investment account. Since the tool is automated, you will be putting aside and investing money without even thinking about it.
There is also the app You Need A Budget to get you to organize your expenses and responsibly prioritize your needs so that you make it to the end of the month. The tool has goal-tracking features to push you to stick to your budget and reach your targets as soon as possible.
Borrow Money
Working without a sensible budget can sometimes leave you in a precarious financial position. You could have a small amount in the bank that you have to stretch until your next paycheck gets deposited into your account.
All of a sudden, an expensive problem pops up. Your car stalls in the middle of traffic, your refrigerator is on the fritz or you need to rush your dog to the vet because they swallowed something they shouldn't have. When this happens, you might need to apply for a personal loan online to make the payments.
People can use the mobile app for MoneyKey to create an account and send requests for personal loans. It's a simple loan application that can be submitted for quick approval, so you can have the money you need within a business day.
The app also lets users review their loan statuses, check their repayment schedules and look through their loan histories. You can go here to learn more about the mobile application and to see if it will be accessible for download on your smartphone and your other devices.
Earn Money
There are a lot of mobile apps out there that encourage user downloads by promising cash earnings. Make sure to check if an app is offering to transfer money for accomplishing tasks, or if it's cryptocurrency or other forms of reward.
If you want to get fit, one of the best moneymaking apps to get is StepBet because it motivates you to take on workout challenges and get some extra cash on the side. The point is to get users active and walking. All you have to do is join a game to find out the goal for the week, make a bet on the pot to join a group and reach the number of steps to make money. The company has similar fitness apps like RunBet and SweatBet for smartphone users.
Maybe you want to make extra pocket change, but you don't want to break a sweat. Some apps will pay you to take a minute of your time to answer simple questions. For instance, Surveys On The Go will give you money for taking surveys on a variety of topics — when you reach $10 you can cash out through the app PayPal.
The iPoll app asks users to give their opinions about everyday products and services that they encounter and then pays for their honest answers. Using this app can help you quickly get cash, gift cards to big brands, air miles, magazine subscriptions and more. The app may not bring you as much money as a second job or a side-hustle, but it can give your wallet a little boost every month.
Take advantage of these incredible apps and improve your personal finances. You can use them to collect more savings, deal with emergencies and stick more money into your wallet. Using your smartphone for only texting and calling will be waste of its true potential.