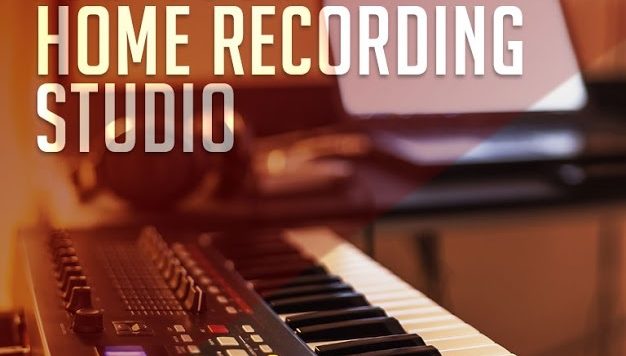 The Best Equipment for Your Home Recording Studio
Published On October 24, 2018 |
Technology
Whether you're an artist or aspires to be one, you've most likely already thought of creating your home recording studio. And why not, when this would mean being on top of your schedule and having better control of your expenses–advantages that are not easily possible with a professional studio.
While you are very well aware of the benefits of having a home recording studio, you are probably kept from pursuing such if, at this point, you're still clueless on how to start and how to get everything done. A home recording studio may seem like a huge project that will require long-term planning and preparation, but we can make it simpler for you. In fact, you just need a few essentials to get started.
Here, we've listed everything you need to put up your very own home recording studio, including the essentials and the 'optionals'.
A Working Computer
At an age when you can find a computer in almost any home, this requirement shouldn't be a problem. While it is ideal to settle for the one that works fast, it is also important to choose a computer that you're already familiar with–one that you can use with ease since this will serve as the hub of your home recording studio. You can actually start with what you already own, especially if you are working on a tight budget.
While for most users, it is usually a battle between Mac or PC, what really matters is to be mindful of the specifications that will help you capture your ideas when producing your songs. Here's what you need to check when choosing a computer for home recording:
CPU – Remember that creating your music can be a tedious task, so you'll need a CPU that can bear the load. The latest generation processors (i5 and i7) can be the best workhorses that you can depend on.
RAM – For starters, you can use 4GB of RAM, however, if you're not willing to compromise efficiency, it is best to settle for 8GB. And ideally, it is recommended to upgrade to a higher RAM as you progress with home recording.
Hard Disk Drive – You're in luck if your PC already runs on Solid State Drive, but if not, you can find a good Hard Disk Drive with 1TB capacity or at least 256GB to ensure maximum power and speed during production.
A Digital Audio Workstation with Solid Audio Interface
Sounds familiar? DAW is the software that you'll use with your computer to be able to record, edit, mix, and master music. You only have to find the software that's most compatible with your computer to get started. On the other hand, the audio interface refers to the hardware that will be attached to your computer and the rest of your equipment and mainly acts to convert analog or acoustic sounds into a digital signal.
While your Digital Audio Workstation is fundamental in developing a software-based home recording studio, it matters to know that there are actually free DAWs that can help you with the audio recording, editing, and mixing.
If you are in search of a free DAW software that is packed with features, Tracktion 6 is the way to go. It offers a powerful modular architecture that is compatible with Windows or Mac OS. Its features include unlimited VST plugin support and ReWire compatibility, making comparably at par with other commercial digital audio workstations out there.
Offering outstanding features, this DAW offers a huge selection of VST plugins, excellent user interface, and a solid workflow, making it one of the best freeware digital audio workstations in the market. Created specifically for electronic musicians, it boasts of a slick user interface and streamlined workflow. Although there are limitations with the free version, it can still easily pass up as a favorite for home recording studios especially with the features it packs that provide most likely everything you'll need for music creation.
Studio One Prime
While this is a free DAW software, you have to know that it doesn't come with VST plugin support, which means that it isn't the best choice for those who'll be using virtual instruments or effects. On a positive note, Studio One Primes comes with a collection of native virtual effects, as well as the Presence XT sampler which offers 1.5 GB collection of built-in sounds that allows loading of third-party SoundFonts. You'd also want to know that though it comes for free, it offers awesome features which include unlimited audio tracks and mixer channels, time-stretching, multitrack comping, full MIDI support, advanced automation and a signature drag and drop workflow.
Pro Tools | First
Also a versatile DAW software, Pro Tools | First is compatible with Windows and Mac OS. And though it's free it offers AAX plugin support, Elastic Time and Pitch functionality, and features Xpand!2 instrument and more than 20 native effects. If what you want is a software that acts as a powerful recording, editing, and mixing tool, this won't disappoint! However, it requires cloud storage that is connected with your Avid account to save your projects. And because it's free, you'll only be allowed to save up to 3 projects at the same time. However, if you're satisfied with this DAW software and wants to make the most of it, you can always opt for its upgraded version.
Linux Multimedia Studio (LMMS)
Unlike the typical free software that come with a paid counterpart, LMMS doesn't have a commercial version. It is inspired by FL studios and has been developed by a team of volunteers as an open source pattern-based music making application. It also offers VST plugin support and is compatible with Windows, Mac OS, and Linux.
Professional Microphones
The number of microphones required for your home studio will depend on your need. Basically, you can start your home studio with only 1 or 2 microphones. As the years go by, you'll find yourself with a collection of microphones for a range of purposes, including those for vocal, percussion, drums, electric guitar, and other low-frequency microphones. However, no matter how huge your collection is, the smartest thing to do is to invest in high-quality microphones that can have a huge impact on the recordings you'll produce.
To help you on your search, here's a list of the microphones that are most preferred by professionals.
It won't be regarded as the most popular vocal mic in the world for nothing. Proof to its popularity is the countless times celebrities are caught using the said microphone. Absolutely, the choice of professionals, you'd want this microphone for your home recording studio as it is resistant to feedback and comes in an ergonomic capsule.
If what you're looking for is a vocal microphone that has a mid-price, you can count on Rode. It is one of the top favorites for those in search of a quality yet affordable vocal microphone. It offers audio quality and with a price that you can afford, the Rode microphone is a suitable choice for those who are starting a home recording studio.
This is an all-around microphone that will give you the most of your money. And why not, when it has the quality that makes it a versatile choice for microphone whether you want to use it for vocals or electric instruments, percussion, bass, and more!
Quality Headphones
As with microphones, you can start with a single headphone mainly for the purpose of hearing what you have recorded and it would be ideal to invest in a good one. There are 2 types of headphones that are considered as standards for home recording studios, these are:
Closed back headphones for tracking – Considered as a necessity for studios, this type of headphone is designed for optimal isolation at the expense of lesser sound quality.
Open back headphones for mixing – Although considered as more of a luxury, this headphone works the other way around as it allows optimal sound quality at the expense of lesser isolation.
Studio Monitors
The option of doing the mixing in headphones is now a popular choice. However, if you prefer the traditional route, you should opt for studio monitors which allow the traditional way of mixing. Also known as near-field monitors, these speakers are small and they are not designed with various tonal enhancements. Instead, they offer a flatter frequency response for you to have a more objective judgment of your mix.
Furthermore, near-field monitor speakers spare you from the expensive cost of large speakers. Not to mention, they are heavy and does not permit ease of installation. And because they are close to the ears, you can expect clear sound, as well as sharp accurate stereo imaging.
While you may find that near-field studio monitors lack deep bass, this can easily be fixed by using a subwoofer that can recreate absolute audio spectrum.
Mic Stand
Though it seems to do nothing really special than keeping a microphone in place, putting your money in a good mic stand is a worthy investment that you'll definitely thank yourself for later. However, if budget is a concern as of the moment, you can opt for a sturdy and reliable mic stand that you can use for your home studio.
There are different types of microphone stands. Though they appear as if they don't serve a special purpose, you should know that it is more than just an accessory especially in recording studios. Without it, you won't be able to keep your microphone in your desired position, which will make it more difficult to achieve impeccable recordings.
As a rule in choosing microphone stands, go for those that allow height adjustment, provides a sturdy base and allows portability.
XLR Cables
These may not be the main equipment but without these accessories, you won't be able to set up and make use of the things you purchased. For starters, you'll need 3 XLR cables which are basically composed of the long XLR cable that you'll use for your microphone and 2 short XLR cables which you'll need for the studio monitors. Eventually, as your equipment grows, you'll be needing more of these XLR cables and with that, as early as now, you have to know the different types of XLR cables that you'll probably require in the future.
Instrument Cable – As its name suggests, the instrument cable connects electronic instruments to an amplifier. These include guitar, bass, keyboard, and the likes.
Patch Cable – This is the type of cable that basically connects various components together and is often used in setting up recordings, PAs, or when linking effects pedals in a signal chain. This cable is short and often uses a range of connectors including XLR, TRS, and RCA.
Microphone Cable – Comes with a male XLR connector on one end and a female XLR connector on the other. Aside from its typical purpose of connecting the microphone to the audio system, it can also be used as the longer counterpart of a patch cable that can be used to connect powered speakers and mixing consoles.
Speaker Cable – Unlike a patch cable, this type cable has a heavier gauge conductor. It requires bigger wires as they come with higher voltage signals.
Optionals:
Pop Filters – this is the mesh covering for the microphone when recording vocals. While this is not essential when starting a home recording studio, you may want to try it especially if you have an extra budget as this is not that expensive. It works for the purpose of filtering out the blast of air when "p" or "b" sounds are produced.
Ear Training Software – another add-on to the list of home recording studio must-haves is the software that you'll find useful to get the ears of a sound engineer that recognizes not only notes, intervals and chords but as well as bands of frequencies.  You'd want this if you haven't developed a professional listening ear, yet and wants to make sure that your recordings will sound great.
Having your own home music studio takes your love for music a notch higher. It may seem a big step to take, but with a few essentials, you'll be all set to create great digital recordings at home.
Author Bio:
Micah de Jesus is the SEO Director of Growthscout SEO Services, a digital marketing firm in Quezon City that caters to the online marketing needs of clients in a range of industry, including public relations, lights and sounds rental, e-commerce, education and more.
Company Bio:
Red Damien is a trusted provider of professional lights and sounds in Quezon City, and the rest of Metro Manila. It caters to your entertainment needs by providing not only state-of-the-art equipment but also professional knowledge and experience to guarantee the success of an event.