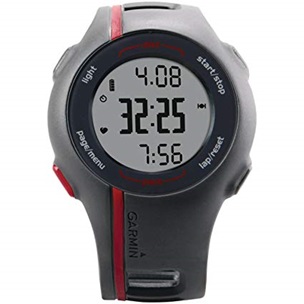 Being active and getting up is always smart thing. Whether it is by lighting weights, mountain biking, running, and gym workouts there are lots of health benefits you will get. It can be more rewarding if you use the best fitness GPS watch: you will be able to track attitude of the hills you are biking, determine the amount of calories burnt, know the distance covered, and many more. With the right fitness watch you eliminate the guesswork of the effectiveness of your workouts. It will help you analyze and track your progress so as to make any necessary changes in your workouts.
The following are some of the best GPS fitness watches:
Garmin Forerunner 110
The Garmin Forerunner 110 was announced in the spring season a few years ago. With the launch of this product, many people were excited to notice a compact fitness tracker attached to their wrists.
Garmin Forerunner 110
Since GPS chipsets and related technologies got smaller, the company laid emphasis on making this watch smaller. People were excited how this stylish and modern-looking GPS tracker could perform numerous functions without looking too big.
With GPS, the Forerunner 110 was able to provide the ability to easily track exactly how far you went on a run or activity, where you participated in your workout, and how fast you were going. These were the key focal points in the marketing campaign developed by the company. This GPS watch was targeted at runners who wanted to use GPS watches for the first time.
Due to this, the user interface of the watch was also simplified to make sure users did not face any challenges. The Forerunner 110 was introduced with some innovative features. Some of this have been explained below.
General Features
The Garmin Forerunner 110 proudly features a solid, waterproof build. In fact, most people consider this watch to be a striped down version of touch sensitive 405, and the flashy 310XT. Since you don't experience any problems regarding GPS reception, this watch tracks the distance and speed accurately. The watch also features an exceptional battery life.
According to techwhiff, this watch is the perfect way to experience the convenience and comfort of GPS. For runners, it's the perfect GPS tracker. Like other watches from the company, the 110 also features a wireless USB fob. It's called an ANT stick. With the ANT stick, the watch automatically uploads data from your last activity or run to the company's platform. You just need to be within 10 feet from your computer.
The Garmin Forerunner 110 uploads data from your each workout to the Garmin Connect. This is the company's online community platform and training log. You will be able to map your routes, and analyze your metrics.
Whether you're working out in the gym, running on the treadmill or mountain biking, the Garmin Forerunner 110 will be the best GPS watch to track your progress. It provides you with accurate data, and precisely records your time, pace and distance. Data from every run will be stored in the device. Thus, you can easily go back, and check your progress. Moreover, Garmin Connect gives you a good platform to keep a watch on your goals.
Adidas Smart Run
This is regarded as all in one watch. It helps you track steps, distance, calories burned, and heart rate. It is a touchscreen watch that gives you the freedom to customize your fitness training program. It also streams audible coaching tips and music through the Bluetooth-enabled headphones. It is possible to choose flexibility or strength of instructional video. You have also the freedom to use your own instructional video. This makes it to take your fitness to the next level.
Nike+ Sportswatch GPS
This is one of the best fitness GPS watch models currently on the market. It is innovatively designed for runners who value simplicity. It uses the TomTom technology that widely known for accurate and precise GPS tracking. This fitness watch will track your distance, speed, calories, and pace. You can get all your data on your own Nike+ online account when you connect it to the computer using USB port. It comes with a sensor that fits into your shoes or pocket. This is important in ensuring accuracy of data collected when running indoors. It also stores the last 50 laps and lets you know when you break your own record.
There are many other outstanding products you can find in this article https://www.techwhiff.com/best-fitness-watches-and-trackers-for-women/